Yes, yes it's another  wreath, I know I just featured my
Feather Boa Heart Wreath
on Monday…
BUT
you didn't think we'd let Valentine's Day go by without another
Dollar Tree Wreath
?! 
My Dollar Tree Holiday Crafts Series has become a fun challenge for me here At The Picket Fence.
So, when on a roll…keep on rolling! Here's a fun Dollar Tree Valentine's Wreath you can create using items found RIGHT NOW in your Dollar Tree!
Dollar Tree Ring of Roses Wreath Tutorial
Supplies:
1 Dollar Tree wicker wreath form
5 bunches Dollar Tree Roses (hot pink and red for nice contrast)
Floral wire cutters
Hot glue and glue sticks
Wide Ribbon for hanging
Directions:
1.  Using wire cutters cut the blooms off of the bunches, leaving about an 1 1/2 stem.
2.  Placing a dab of hot glue around base of bloom and down stem, work stems into the spaces in your wreath form.
3.  Work your way around the top of the wreath evenly placing your flowers to form a base of roses.
4.  Begin to fill in roses around your base of flowers, creating a full wreath.  Alternate between hot pink and red for a nice contrasting effect. 
5.  After you have filled in your entire wreath, turn wreath over and using your wire clippers remove any of the ends of the stem sticking out.
6.  Wrap with a wide ribbon, hang and enjoy!
Isn't it sweet and pretty?  I just love the pop of red on my door.  It's so simple and easy to make.  Too easy? Maybe, but that's the whole point! 
It doesn't take much time or money to add some fun holiday touches to your home!  Let me know if you decide to make my "Ring of Roses" Dollar Tree Wreath!
It's beginning to look a lot like Valentine's Day around here! Stay tuned for even more fabulous Valentine's Day ideas, crafts and recipes here At The Picket Fence.  And be sure to join us for the 14 Days of Love Series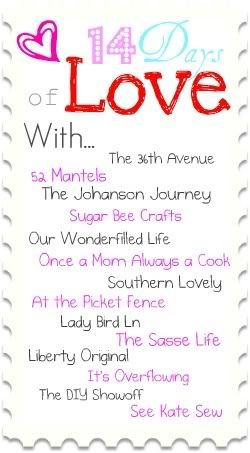 that we're participating in with Ashley of
Cherished Bliss
!  Lots of your favorite bloggers will be sharing their fun and fabulous Valentine's Day projects!
Thanks for joining me for another fun Dollar Tree Wreath Tutorial…At The Picket Fence!
This post is partying "with love" at:
Common Ground: Vintage Inspiration Friday
Stuff and Nonsense: Fridays Unfolded
2805: Potpourri Friday
French Country Cottage: Feathered Nest Friday
Funky Junk Interiors: Saturday Nite Special
A Simply Klassic Home: Simply Klassic Sundays
Decor Chick: Valentine Link Party
Thanks for installing the Bottom of every post plugin by Corey Salzano. Contact me if you need custom WordPress plugins or website design.