Merry Christmas! 
And, welcome to the next stop on the Block…the Blogger Block that is!
This is one amazing event and I'm so thrilled today to be hosting today's
Doors and Porches Linky Party!
Just as a warm smile can be a reflection of your heart, our front doors and porches give us an opportunity to reflect the warmth we strive to create in our homes.
And, this is never more true than at Christmas.
So, imagine me smiling warmly at you right now as I share my "

Joyful Christmas Porch

"!
This porch was created with a small budget, very simple projects and some lucky finds!
I recalled last year seeing how Delores from
Vignette Design
(truly an amazingly talented lady!) had dressed up her fresh wreath with a jute webbing banner and I that I wanted to do the same thing.
Yep…I'm just that nuts that I remember someone's Christmas decor from last year!
Every year I purchase a fresh wreath and garland from Costco but this is the first time I have added anything to the wreath. Stenciled letters on Jute Webbing is such an easy, inexpensive and simple way to dress it up!
I seriously cannot tell you how much fun I had decorating my porch this year!
You talented folks in blogland have seriously inspired me and given me the courage to try new things and yes…even get a little bit crafty now and then. 
Can you feel the "JOY"? 
Well, my porch sure did when I added these letters to my outdoor planters.
I purchased the small arborvitae for $3.99 each at Lowes and used pots I already had on hand.
Painting the wooden letters a bright red gave the porch a nice pop of color and I simply attached a piece of twine to the back of each letter using a staple gun and then tied them around each plant.
These large glass jars were first outfitted with flickering LED candles which were then stuck to the bottom using "Stick-Um", my go-to tool this time of year.
Then, each jar was filled with glittery faux snow and tucked inside a berry and evergreen candle ring.
I really wanted Christmas pillows for my chairs but just couldn't bring myself to spend the money on the ones I found in the stores. When I spotted a set of linen kitchen towels for $4.99 each I knew they would do the trick! I simply folded them in half and used Liquid Stitch to "sew" the sides and stuffed them right up.
I seriously LOVE how they turned out and love the price even more!
Ok…now for the part that turned me into a cheesy grinning fool at a thrift store.
I found this darling little sled at the Rescue Mission for $8 and
seriously couldn't believe it when I saw it.
Plus, I didn't even have to elbow anyone out of the way to snatch it up!
A simple potted tree sits on top.
Love the details and patina!
In front of the sled I placed a lantern with wintery goodies tucked inside along with a strand of battery operated white lights.
I thought I was all done until I suddenly got inspired to create my own Christmas Doormat!
I picked up a $6 mat from Wal-Mart and after stenciling little fleur-de-lis in each corner I freehand (yes…freehand folks!) painted NOEL in the same bold red as my JOY Letters.
If you only knew how bad my handwriting actually is, you would appreciate this even more!
All in all, I am so pleased with how my Front Door and Porch turned out this year.
I only wish I could fling that door right open for all of you and welcome you into my home the way you have all welcomed us into your lives! 
Thank you so much for letting me share this with you today! 
And now, how about some….
Hold onto your hats folks, because we won't just have one winner here at the Doors and Porches Party…nope….we will have FOUR! That's right!
Four fabulous items from four of our fabulous sponsors means there will be four winners!
(Heather will have four more for you on Friday!)
Here are the beautiful items you will have the chance to win!
First up, is this gorgeous "Believe" pillow from the amazing Ann of 


Next is this absolutely beautiful set of Christmas Botanical Cards (prints of her original watercolor painting) from the talented Dawn of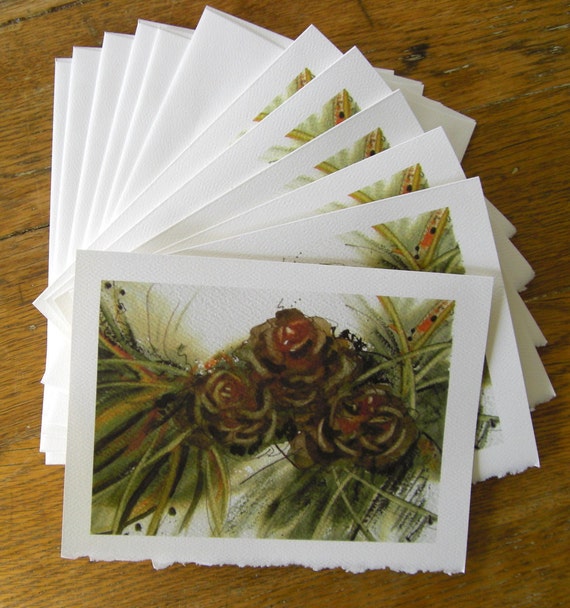 Now, how about a little extra "bling" this Holiday season?
You will have a chance to enter to win this incredible
Steampunk Filigree Ring
from the lovely Jenny of
Ambivalent Relics
And last, but most certainly not least, one lucky reader will win a beautiful
Letter Pendant
from the amazingly creative Jeanne of 
juNxtaposition
!
These are true treasures made using actual antique typewriter letters and the winner will, of course, be able to pick the letter of their choice.
Want to know how you can win one of these fantastic prizes?
We are giving you 3 ways in which you can enter!
1. Just simply leave a comment letting us know you would like to be entered for a chance to win…you don't even have to link up to the party! (Separate Comment)
2.  Link up to the Doors and Porches Party and let us know you did. (Separate comment)
3. Pay these amazing Sponsors a visit at their shops and come back to let us know you checked them out. (Separate Comment)
That's all there is to it folks!
4 Giveaways
4 Winners
Pretty good odds if you ask me! 
 The Doors and Porches Party link will be up all week long so come by anytime to join in the fun!
And, if you linked up, be sure to grab a button!
Thanks so much for meeting me here at the Fence today,