If you were a follower of Gourmet Meals for Less, than you'll know this is a Post from the Past.
However, Vanessa and I felt it was worth sharing again here.  I remodeled my bathroom this past summer and I am still so in love with it.  It was my first major undertaking and I am proud to say I did it all by myself…okay so Lee picked the toilet up for me (I needed some brute strength) and Will "the tool-man" Taylor, my oh so awesome neighbor, came over and put an outlet box in my wall for my new vanity light.  Other than that it was all me…and I am proud of myself!  Is that wrong to be so proud?  Well if it is I'll ask forgiveness next week cause this week I'm going to be proud.
Now you can never fully appreciate a remodel without before pictures.  I want to apologize before you view the pictures about the poor lighting.  This is a windowless bathroom at the end of a long dark upstairs hallway with no natural light.  So the lighting is a little iffy..but I think you will still be able to see what a dramatic change this is.
You will notice the lovely circa 1990's oak builder's grade vanity which corresponds so beautifully with the mauve and white linoleum flooring.
Also we have some classic oak accessories such as the handtowel ring and the oak 
towel bar.  The previous owner did such a great job matching the oak accessories with the lovely  oak trim that runs throughout my home.  Which I love dearly…not.  
If you think the bathroom in this current state leaves a lot to be desired you should have seen it when we moved in.  Imagaine this but…decorated in Sponge Bob. I always have regretted not taking pictures of it in all it's Sponge Bob glory….or maybe I knew it was better not to, to save me from the nightmare memories of removing Sponge Bob and Patrick wallpaper.
Now onto the "after pictures" which are always so much more fun.  Here is my bathroom now!
Only a before and after can do it complete justice!
Before I started any projects I applied a new coat of paint to the walls after pulling up the baseboards.  This allowed me to go all the way to the floor, I didn't worry about drips because the old flooring was still on and I painted the ceilings the same color to add height to the room.  Easy peasy paint job…(total $17.00)
So this is an up-close of the biggest change to the bathroom.  My Faux Board and Batten treatment.  
I still stand in there and can't believe I did this all by myself.  It is very empowering as a woman to realize that I can operate tools with no help.  Because we are not a very "handy dandy" household I was limited on what I had available to me.  So after doing a lot of research online I settled on copying Sarah and 

Thrifty Decor Chick

.  She had done a board and batten treatment in her son's room and made it looks so easy!  I encourage you to check out her site she is incredible!  I want to be her when I grow up…or at least I want my house to be her house when it grows up…grin.  She gives very detailed instructions on her 

board and batten post

.  So I won't recount every detail, but I will say this.  You will definitely need to purchase one of these:
If you don't have access to a power miter-saw.  It definitely would be easier with a power miter-saw… Christmas gift anyone?  But these are so cheap.  I think I spent $11 on the box and saw at Home Depot.  Get yourself one, they are just so cool and handy.
I had removed the baseboards to install the tile, so after sanding, priming, and painting them I put them back with some(confession here Liquid Nails and a few well placed finishing nails..that I hand nailed..again no power tools here people).  Then I just taped off about where I wanted the top rail to be.  Primed and painted the walls below with semi-gloss paint ($8.00 for a quart), cut each wood strip to the right height (by hand) and primed and painted one coat on the wood strips.
I went with a 12″ spacing because 1-that is true board and batten spacing and 2-it looked right for my wall sizes.  After attaching the wood strips to the wall again with some Liquid Nails and a few well placed finishing nails.  I added a strip of the lattice around the top of the boards.  I really wanted a little faux ledge.   I felt it made it look more like true board and batten.  So I headed back to Home Depot to look for something that would mimic a ledge.  I found this shoe molding for a little over $2.00 for 8 feet.  It is the foaming kind but works great when your walls aren't exactly plumb…which believe me these walls were not.  I like it because it will mold to the wall.  This is where my mitering skills were put to the test because…
See those two little columns between the two rooms?  Well I had to miter the ledge around all of those little corners at the top.  I'm so glad I got the foam molding for this part because it was a test of brain power to figure out how to cut inside miter corners versus outside miter corners and because the foam molding is so cheap and easy to cut it wasn't too painful when I made a mistake…but I finally did it!  Now before you apply your final 3-4 coats of semi gloss white paint.  You will want to caulk all edges of your wood with paintable white caulk…Caulk will be your friend on this project…trust me.
I also installed new title flooring.
This cost me approximately $50 at Lowe's.  I decided to use a brick pattern for interest and I love the larger tiles with the thick "grout" line.  It looks very "real" and feel's cool to the touch just like real tile…but for much cheaper.  Boy this was a test of my measuring and cutting skills!  I am so glad that I chose to take off the baseboards and it made it much easier to butt the tile right up to the wall.  It will give you a little wiggle room on your cuts because you know the baseboards will cover up any rough edges. 
Also you want to remove your toilet.  Now don't gag when you take that baby off because let's face it toilets are just gross…especially ones that have been sitting there for 12 years.  We went ahead and put a new fresh wax ring one.  And now it's sitting pretty on my new flooring.   
I then tackled the ugly oak knob-less vanity.
I repainted the vanity using Black Raisin by Valspar.  I purchased one quart and still had plenty left over.  I installed new brushed nickel knobs that I found at Lowes for $2.12 each.  
My one other big project in this room besides the board and batten, new flooring and painting the vanity was making the frame for my mirror.  
I thought about removing the builder grade vanity mirror and buying a new one, but a large mirror for this space would have been pretty pricey.  So for $16.00 worth of molding (I got real wood molding for this project) I was able to frame out the existing mirror.  First I cut all of my moldings to size and then mitered the corners…boy this was a job because the molding is real wood and very thick.  My arms got quite a workout with all of this sawing.
I then painted the front and back of the wood (you always want to paint the back or else it will reflect the unfinished backside of the molding into your mirror and everyone will see it…it's just the nature of mirrors.  After all the molding pieces were dry I started with the bottom piece and worked my way around to the top.  I used a thin coat of Liquid Nails making sure not to get any near the mirror edge..again you will see it in the mirror if you do this.  I held the pieces in place with painters tape for about an hour for each piece.  Lay your top piece last so it can rest on the side pieces to help hold it in place…and there you have it a custom frame for your mirror for $16!
I replaced one of the most hidous oak vanity lights you have ever seen.  I would like to say I'm sorry for not having a before picture of it..but I'm not.  It was that ugly.
My most awesome neighbor came over to cut a hole in the sheetrock and install a new outlet box because, supposedly hideous ugly Hollywood style vanity lights don't need light boxes, which totally surprised me when I removed it and found a big wire poking though a hole.  Thank you Will for rescuing me from that hideous light and helping me to avoid calling an electrician.  You helped me keep my bathroom remodel frugal and on top of that you are the best neighbor ever. 
Here are some different accessories I purchased at TJ Maxx and Home Goods (our two favorite stores here At The Picket Fence!)
Some vintage signs..the one reminded me of the girl at the beach.  The pictures in the frame are from our various beach vacations.
This Seaside wooden sign was inspiration for the color scheme of the bathroom.  And I found towels in the right colors at Homegoods.  
I picked up this adorable towel basket at TJ Maxx on clearance.  It couldn't match more perfectly!
I found this adorable chippy tray on clearance at Kroger of all places!  Pays to always keep your eye out for decorating items.  I placed color coordinating washcloths in a little basket for guests and to provide some color.
The mirror was 
re-purposed
.  It was actually sitting in a box to be taken to Goodwill.  It had 
originally
 been gold.  I painted it with some leftover white paint from the board and batten treatment and then went over that with some of the espresso brown paint from the vanity and mirror frame.  I worked it into all of the nooks and crannys to give it a old vintage look.  Not too bad for free! 
And see that cute shower curtain puddled on the floor? Yes that is a canvas drop-cloth. I attached it to a shower curtain but still have a real shower coordinating shower curtain behind it with a plastic liner.  So the drop cloth curtain is just for looks, but it adds a nice canvas beachy feel to the bathroom.
Thank you for visiting my remodeled bathroom with me.  I have estimated the total cost of my remodel to be under $250.00.  This includes paint, flooring, board and batten, light fixtures, towel and toilet paper accessories and all decor.  It was a lot of work but it was rewarding and fun.  I just love my new bathroom. 
I find myself wandering in there to just look at it.  It feels so calming and vintage cottage "beachy" which is what I was wanting.  I am now inspired to continue on with other areas of the house, so I will be posting my remodels as I complete them.  I'm thinking traditional wainscoting and crown molding is up next for my dining room and entryway downstairs or more board and batten for my mudroom…we shall see.  In the meantime I will be enjoying my new guest bathroom.
Thanks for meeting me At the Picket Fence!
Heather
This post is linked up to: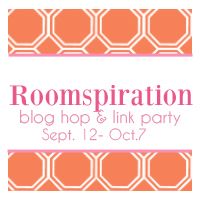 Friday's Unfolded
Tuesday Treasures
Wow Us Wednesday