The phrase 'budget friendly' is really kind of a relative term, isn't it? I mean, what is 'friendly' to one person's budget might not be quite so 'friendly' to another person's budget.
Sometimes when I'm watching a decorating show or flipping through the pages of a magazine and they reference an item that was such a 'great deal' and then I find out what they actually paid for it I'm shocked.
Apparently my definition of a good deal is very different from theirs!
I firmly believe in getting the look for less. And I mean WAY less! Those little 10% off sales don't cut it with me.
I'm one of those people who heads straight to the clearance rack at a store before looking at anything else. Because there is just something so thrilling about finding just the thing you've been looking for at a price that is pleasing to your wallet.
But even though I'm always looking for the bargain, I don't want my home to look like one big bargain bin. I believe that when carefully chosen, budget-friendly pieces can come together to create spaces that look like a million bucks!
Decorating flat, open spaces can be a bit intimidating. But they don't have to be!
As Julie Andrews said in The Sound of Music…"let's start at the very beginning, a very good place to start".
How to Decorate a Coffee Table Like a Boss on a Budget
1. Grab a large tray, any tray you like, and place it off center towards the lower edge of the table.
2. Place a stack of hardback books on top of the tray. If you don't have any with pretty covers, simply take the paper jacket off of the book.
3. Put something decorative on top of the stack of books and consider having it be a shiny object like this mercury glass box which I found on clearance (of course!) for $5.
4. Now it's time for some height. This can be accomplished by either a grouping of 3 narrow candleholders or one big ol' chunky wooden one like this. I placed this at the top right corner so that as I am looking into this room, it doesn't block the line of vision.
Now, in the next picture, do you see that open space there to the left of the candlestick?
5. Add a piece that is lower but still substantial. You could use a box like the one pictured below or even a decorative bowl.
6. And finally, something fresh like flowers or a plant will add life and more texture. These yellow tulips were only $3.99 at Trader Joes.
And that's all there is to it! Easy, peasy, lemon squeezy, right? 😉
Now, I'm not saying that I'm a coffee table decorating expert by any means. But I have found that, like so many other things in life, when I break it down into small, simple steps suddenly it is much less intimidating.
And the best part is that when I look at my coffee table, not only do I see pieces that I love and find beautiful, I also know that I've been a good steward of my resources. I totally believe that you can be mindful of your family's budget AND enjoy decorating at the same time.
Now, that's what I call 'friendly'! 🙂
And speaking of budget-friendly, I'm so excited to announce that I will be teaming up with these talented ladies each month to bring you ideas for decorating your home without breaking the bank!
I hope you'll pop over and pay them a visit next!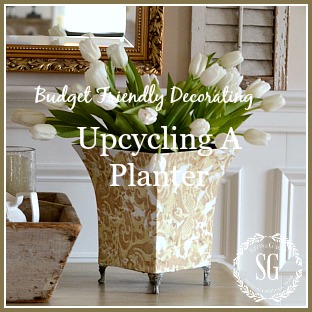 Stone Gable Blog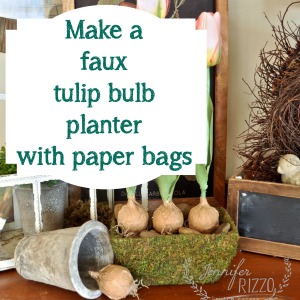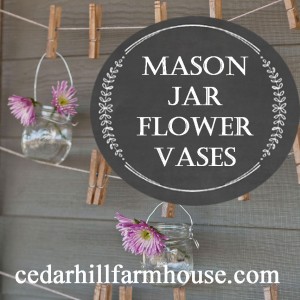 And if you are looking for more inspiration right at your fingertips, we are thrilled to announce the launch of an amazing new home and garden community app for iPhones and iPads. Find out more about bHome here!
Thanks so much for joining me at the fence today!