As in the gorgeous view which has now become so familiar and yet still surprises me every time.
But, looking out of that tiny airplane window and seeing the lush green landscape of the Pacific Northwest does help ease the post-vacation pain!
Want to know where I was?
Let me just tell you that this was the only day that we had to wear sweatshirts because the rest of the week was perfectly sunny and gorgeous. I have the flip-flop tan lines to prove it!
I don't know who told him he was allowed to turn 8 years old but it wasn't me!
We had an absolutely amazing time and the kids were at such great ages for this kind of vacation.
Others just want to stomp on every piece of popcorn they can find on the ground.
If I had known how much she enjoyed doing this, I would have just thrown some popcorn on our driveway and called it a day. Could have saved us a lot of money!
While little Miss did things like that (and went on rides too of course!),
my daredevil of a son decided that he REALLY
wanted to try out the giant roller coaster at
Daddy doesn't like upside down roller coasters.
Guess who got to go with Ian?
Let's just say that Mommy pretty much lost her voice (fortunately not her lunch!) after that one.
They don't call it "California Screamin" for nothing!
Coming home was hard.
The montain of laundry reminded me of the Matterhorn!
I just loved how sweet those herbs looked tied in bundles onto that metal topiary.
And it didn't hurt that there were some yummy cocktail recipes right alongside it!
So when I saw this at a second-hand store for $5 I knew I needed to recreate it and bring a little bit of summer sunshine into my cloudy days.
Not quite the same as the inspiration, but it definitely put a smile on my face and made my kitchen smell divine!
Now, who wants to join me for one of those cocktails?
When my hubby saw me tying herbs to a black metal thingy he knew it must have something to do with Blogging! Actually, he looked at me like I was nuts for a few minutes. But, what's new?
It's a rough life I lead being a cocktail guinea pig!
Since he was making them, he got to pick which one we would try.
Pour 2 Tbsp. gin and 6 Tbsp. chilled tonic water over ice in a glass.
Serve with a wedge of lime and a sprig of rosemary if you're feelin' fancy!
Wait! What is that I see? A little bit of sunshine peeking through?
Hurry!
It actually lasted long enough for us to enjoy this refreshing "tasty beverage"
(which is what we call adult drinks in this house)
out on the deck. I think I actually felt warm there for a few minutes.
Maybe it was just the Gin!
And now, we are a bit late this week, but we wanted to be sure and introduce you to our
What do you get when a flight attendant turns stay-at-home mommy?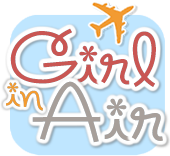 We would call each other to say, "did you see what Michell linked up? Isn't she amazing?"
You can pick your mouth up off of the floor now.
We have more to show you!
Not only is Michelle beyond creative, she has also quickly become a sweet friend to us here at the Fence.