Today we are shining the spotlight on a talented artist and a long time sponsor of At The Picket Fence! Dawn of Red Bird Cottage Art! 
Dawn has a passion for recreating nature on canvas  in watercolor and sharing with us glimpses into the world around us.  She

 paints with a loose, expressive style and lots of color and brings a sense of life and movement to her art.  
Here is just a sample of Dawn's gorgeous work!
Can you tell we're ready for Fall! This beautiful print just shouts Autumn and Harvest to us.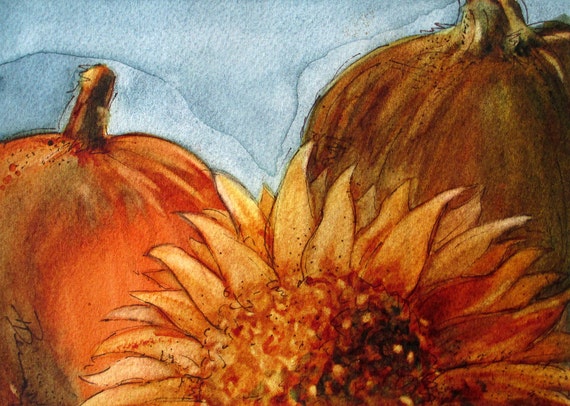 In our family we have a fascination with old barns, this one reminds us so much of our grandparent's in Michigan.  What a great gift for someone who grew up on a farm!
Peaches are ripe for the picking right now, but this peach will never be out of season!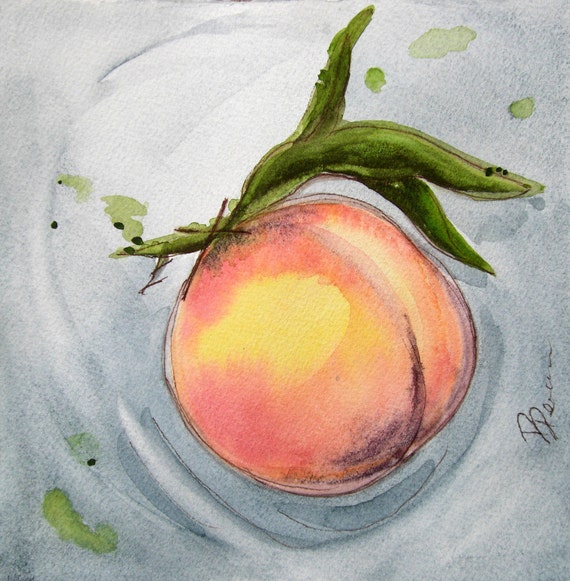 Owl's are so popular right now and you can own a whole collection of them! Dawn has beautifully done sets of watercolor cards so you can share her work with others, or you could frame and keep them all to yourself! Wouldn't they be gorgeous over a buffet or as a 
gallery
 set?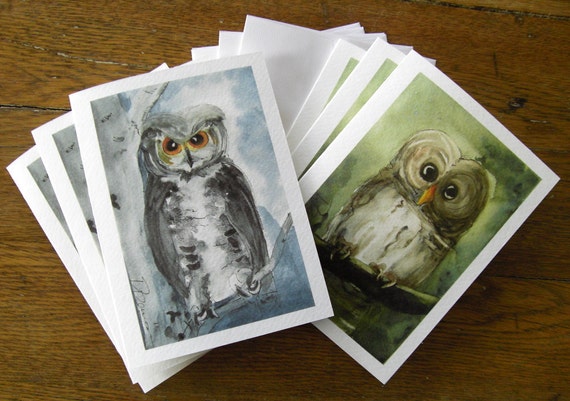 Dawn has recently opened a gorgeous new website where you can purchase originals and prints of her beautiful watercolors! 
dawn-derman.artistwebsites.com
We asked Dawn to share a little about herself and  how she started Red Bird Cottage.
1. What led to your decision to start your own small business?
I began creating textile art about 6 years ago.  My  first experience exhibiting and selling  my art was with a gallery in Appleton, WI.  where we lived at the time.  I also opened my first etsy shop selling primitive hooked rugs.  About two years ago I took some watercolor classes and have focused all of my creative energy on watercolor since then.  I am now exhibiting and selling my watercolors online and in a gallery here in Illinois. 
2. From where do you draw inspiration for your products?
I love the process of painting. . .and I am constantly amazed when my paintings begin to take on a life of their own. I'm never quite sure what the end result will be. . .and of course, I'm not always pleased. But I do always enjoy the process.   Much of my work is inspired by the beauty of the natural world.   
3. What do you feel has been your greatest accomplishment as a small business owner?
I am so thrilled to be able to exhibit my artwork and am delighted when someone enjoys my paintings enough to want to own them and enjoy them in their own space.
4.  What is one of the challenges you face as a small business owner?
For me, selling and exhibiting is also the hardest part of this venture.  I am by nature,  rather introverted and private.  If it were up to me, I'd sit in my studio and paint all day and forget about the rest of it! I  That being said,  if you are interested in my work, I sell original paintings at www.Redbirdcottageart.etsy.com
  and I have prints of my work available on my new website 
www.dawn-derman.
artistwebsites.com .
5. What advice would you give to someone interested in starting their own business?
I think the best advice I can give is to realize that a new venture takes time to learn and develop. Most of us don't just wake up knowing how to be successful, but there are alot of resources available and if you are persistent, you can probably learn what you need to know.  I feel so blessed to be able to follow my passion, with the help and  support of my family.   Thank you for your interest in my art.
THANK YOU DAWN for brightening up the world with your beautiful work and bringing a little bit of nature into our homes! Also, for being such a lovely friend!
If you would like to own one of Dawn's gorgeous original prints you can visit her at her new website 
dawn-derman.
artistwebsites.com
 and 
enter code: HEMREA

at checkout for

25% off!