Hi! Hi! Hi! We are going strong here At The Picket Fence! We're working our way through several fun holiday crafts and projects as well as showing off our homes all decked out for Christmas!
Today we are so excited to BOTH be sharing a fun and festive Christmas craft with Lisa at the Twelve Crafty Days of Christmas Series over at Before Meets After.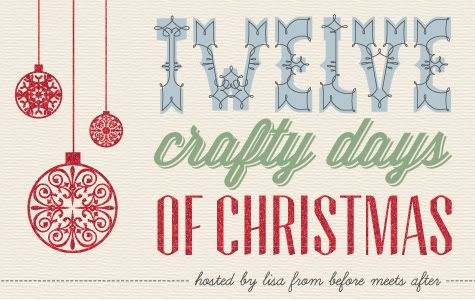 My Tale of Three (Dollar Tree) Pumpkins Project was so popular this fall, I thought I'd do a Three Dollar Tree Wreaths series as well.
Because of the timeframe….can you BELIEVE Christmas is less than two weeks away?!…I decided to throw caution to the wind and feature all three wreaths in one post! I'm going to share two of them here…and then you'll have to visit us over at Before Meets After to see the third wreath in the series!
UP FIRST! The one you've all been asking about..
THE DOLLAR TREE CANDY CANE WREATH
Many of you saw this one when I revealed my kitchen remodel for the Christmas in the Kitchen party…which by the way is still open for links! This was the first wreath I envisioned creating when I visited the Dollar Tree way back in November to check out their holiday items.
Supplies:
one white Styrofoam wreath form
9-10 packs of Dollar Tree acrylic candy canes (depending on size of wreath form)
white or iridescent glitter (optional)
white craft glue
hot glue gun and low temp glue sticks (appropriate for using on Styrofoam)
Ribbon for hanging
Tutorial:
This wreath couldn't have been easier! Begin by hot gluing your candy canes one at a time around your wreath.  Make sure that the ends are tight together, and ends of candy canes are right up against the opening of the wreath.  The tops of the candy canes will be farther apart then the bottom, and the first candy cane will rest on top of the next as seen in the picture below.
When you have all of the candy canes attached, if desired apply craft glue to outer edge and inner edge of wreath and sprinkle with glitter for a pretty finish!
and hang in a fun place to show off your awesome new wreath!
Second, we have a wreath that is similar to one I saw floating around from Better Homes and Gardens but couldn't find instructions on anywhere.  So I decided to create my own…and from Dollar Tree items of course!
Supplies:
Two packs of large Dollar Tree Snowflakes
Two-Three  packs of medium Dollar Tree Snowflakes
Hot Glue Gun
Ribbon for hanging
Tutorial:
1.  Begin by laying out your largest snowflakes to create a rough circle the size you would like for your wreath.  Hot glue the points of the wreaths together, with the largest points out.
2.  Once the glue has dried, begin layering your smaller snowflakes on top of the large ones in a pattern that is pleasing to you.  Once you have them where you like them, hot glue them to the bottom snowflakes and to each other until they are firmly attached.
Add an additional layer until you like your overall design.
Once the glue has dried wrap wreath with a wide ribbon in the color of your choice and hang!
I hung this wreath over my Framed Chalkboard in my dining room…Let It Snow!!
and last but certainly not least…
So do you wanna see how I made this one?  Well you'll have to head over to Before Meets After to see the tutorial.
Vanessa will also be sharing these gorgeous knock off stacked candlesticks!
So meet us over there, and learn how to make these two fabulous holiday projects!  We're looking forward to sharing our fun Christmas crafts with you!