I can't believe that it has been so long since I shared with you an update on my
Picket Fence Project
!
Talk about a learning experience! When I was hired by our friends to help them rebuild their home after it was almost completely lost in a fire (no one was injured thank the Lord!), I had no idea just how involved the process would be. It has been so incredible to see the plans we sketched out on paper come to life.
 And after the latest walk-through this past weekend, I was reminded again of what an honor it has been to be apart of this journey.
This is how things were looking the last time I showed it to you:
Here is how it is looking now. Isn't the stone work beautiful?
The home should be completed within the next few weeks and this past Saturday we got to see the beginning stages of the cabinet installations.
I vividly remember, several months ago, standing in the skeleton of what would become the new mud room. As the homeowner, builder and I discussed some of the details I kept looking over at this one empty wall.
I knew it was MEANT to be something.
It had so much potential!
That's when I remembered the conversation we had been having while looking at the kitchen layout.
There was going to be a desk area but it would be tiny.
 Teeny tiny to be exact.
And that would be the only designated office space in the entire house. That wasn't gonna cut it!
So, I casually said, "well, what about building a desk along that wall?"
And then they looked at me like I was crazy…but I'm used to that by now!
I explained to them how I had been seeing a lot of people carving out office space in their laundry or mud rooms. And I grabbed my iphone and pulled up some pictures to prove it to them!
Like this one: I love how the desk is set back into a little nook.
Maybe it would help you to not notice the laundry piled up on the floor!
Or how about this one? Seriously you can barely tell that there is a washer and dryer in this space, it is just so gorgeous with all of those built-ins!

source
I'm not sure I would be able to concentrate on my blog writing if I was facing all of the wonderful windows in this next photo, but I'm sure I would manage…somehow! And, how fabulous is that bulletin board?

source
This next photo shows that the design doesn't have to be elaborate. Simply by leaving an open space underneath the counter top, room was made for a functional desk area.
I love the little cubbies above the desk in this next photo and utilizing the corner helped maximize the space!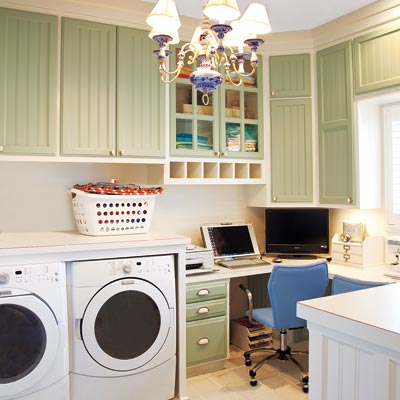 source
Add in a fridge and you wouldn't ever have to leave this next space.
 Well, that is until your family realized that they were out of socks and underwear and came looking for you!

source
I love that the washer and dryer in this next room are hidden behind the curtains.
And using a free-standing desk shows that you don't have to do custom built-ins to make your office/laundry room functional and pretty!
Our friend Kristin from My Uncommon Slice of Suburbia carved out this wonderful desk space for her boys in their mudroom. You truly should go over and see the rest of this awesome makeover!

source
I love absolutely everything about this next one! Maybe it's because the color of the cabinets remind me of my own laundry room cabinets. Or maybe it's the floor? Or that open shelving? Or that it's HUGE?
This space, created by Jolie of the lovely blog Shopping Candy, does triple duty as it serves as a laundry room, office and a craft room!

source
Well, there you have it!
10 different ways to incorporate an Office Space into your Laundry Room or Mud Room.

Would you ever consider doing this?
I can't wait to show you how the Laundry Room Office turns out in my Picket Fence Project House along with the rest of the incredible transformation!
We also want to take a quick moment to announce the "second" winner of the Southern Blogger's Conference Pass! Our first winner wasn't able to attend so….CONGRATULATIONS to
REBECCA of YOU ARE TALKING TOO MUCH!! 
We will be in touch to get you your pass…and there's still time for YOU to get YOUR ticket! Click the link below for more information…hope to see you there! 
Southern Bloggers Conference
Thanks so much for joining me today at the Fence,