Oh you guys, you are in for such a treat today!
Our friend Anita is here with us to share her incredible home and we know you will drool over  enjoy it as much as we do! Anita is an amazingly talented designer who creates spaces that are elegant yet approachable. Like it's owner, this home exudes warmth and hospitality and we are honored to be able to share it with you here today.
Let's get to the tour now, shall we?
I can't tell you how excited I was when Heather and Vanessa asked if I would share my home with you.
Hi, I'm Anita from CedarHillFarmhouse.com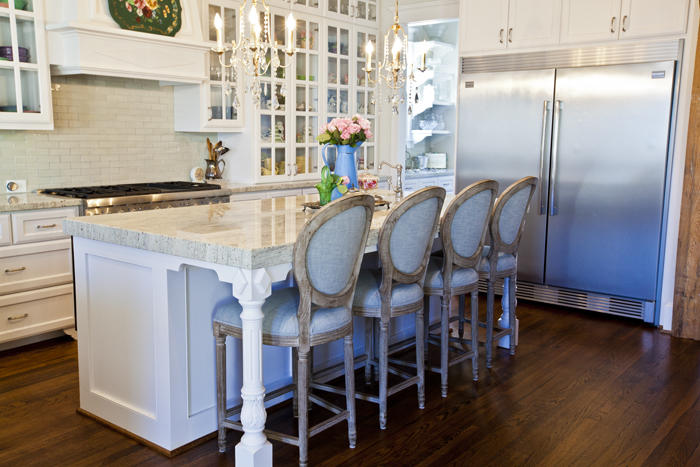 I love having company! Come on in, and let me get you a cup of tea. Well… I would… if you were here, but we'll just have to pretend on the tea thing. (I poured you a cup any way.)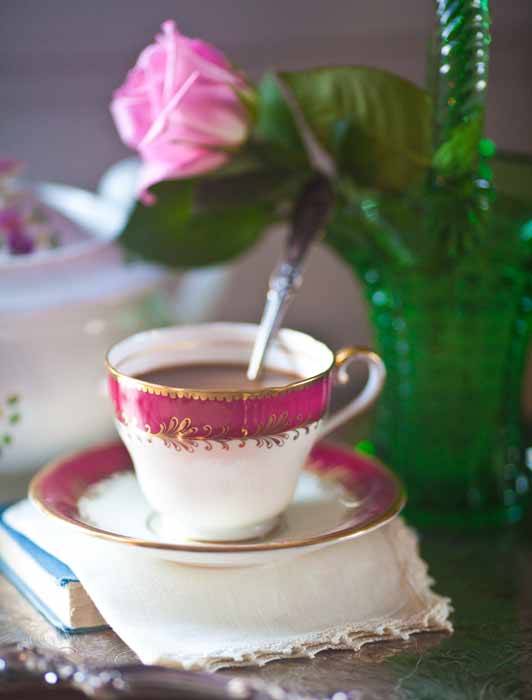 I'm supposed to tell you what I love about my house, and the truth is… I love everything about my home from where it is… to all of the fun details we added. It's in a funky, hip area called the Houston Heights, that was founded over 100 years ago. In Texas, that's old! There are old Victorian homes here as well as Craftsman-style homes from the turn of the century. We built a new home, but wanted it to blend with the original homes in the neighborhood, so it is a Craftsman-style home on the outside, but inside… it's totally country French.
We added lots of period details like these antique doors to the study. (My desk doesn't look that neat any more.)
And we added an antique garden post as the anchoring newel post for the stairs.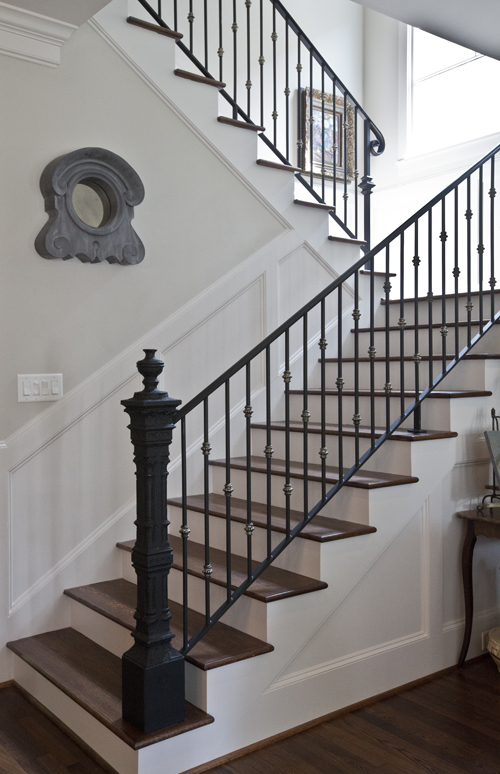 Collecting all of these elements and adding them to our home was so much fun. Being my own client though was challenging at times. I really didn't have anyone to bounce ideas off, but in the end, it all came together.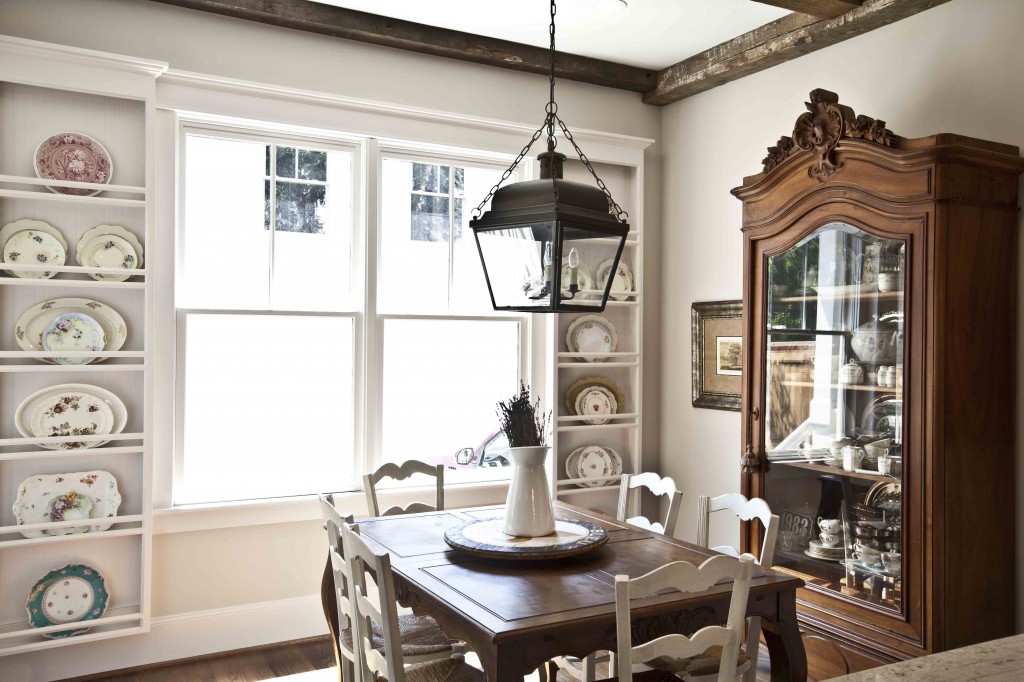 My overarching theme was farmhouse French design. I had this in the back of my mind at all times, "Will this work with French antiques and farmhouse touches?" Of course I needed lots of places to display my plates, so I asked my carpenter, Jesus (yes that really is his name) to make plate racks for my breakfast room, and open shelving in the butler's pantry for the crystal. (Sadly there's no Carson here! #Downtonfan)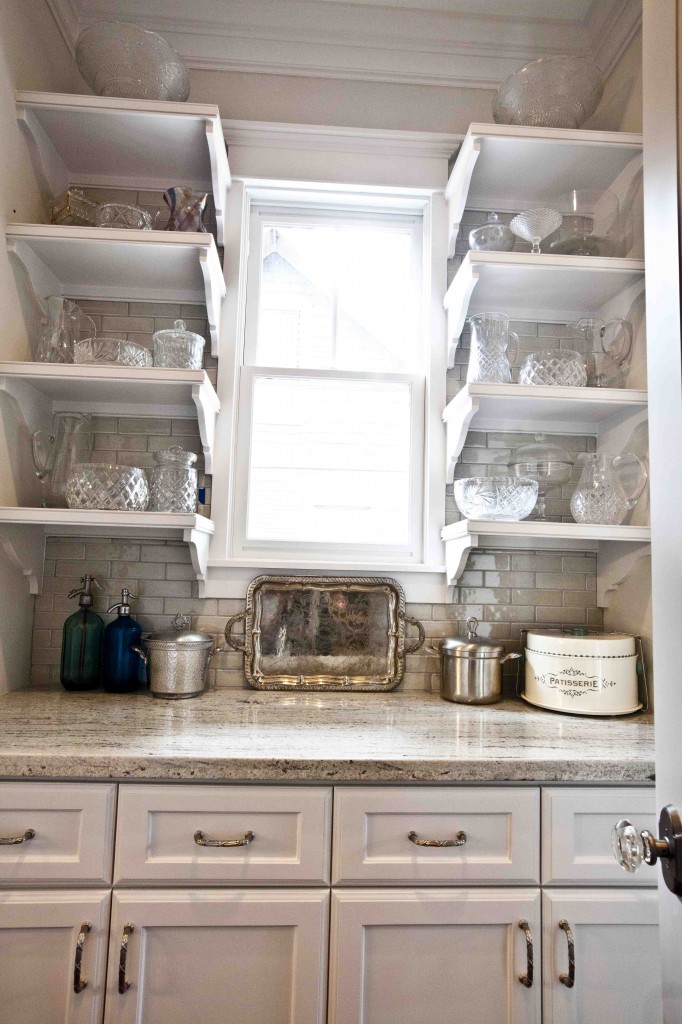 He also made these beautiful built-in cabinets that everyone thinks are antique armoires. (The TV is behind the doors over the fireplace.) I love to sew too; I made all of the slipcovers for the furniture in the living room,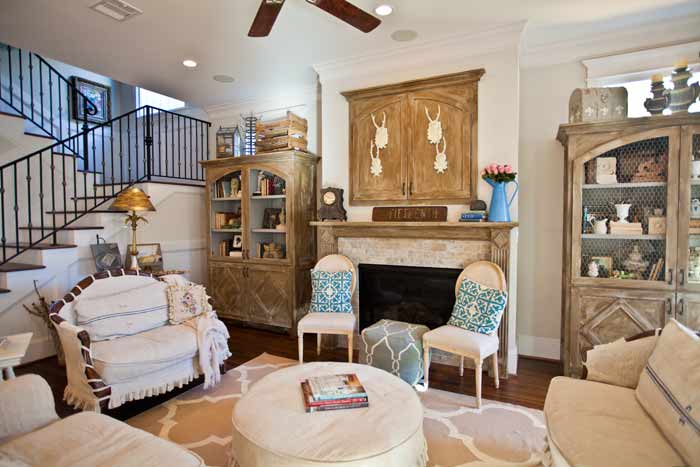 and the dining room.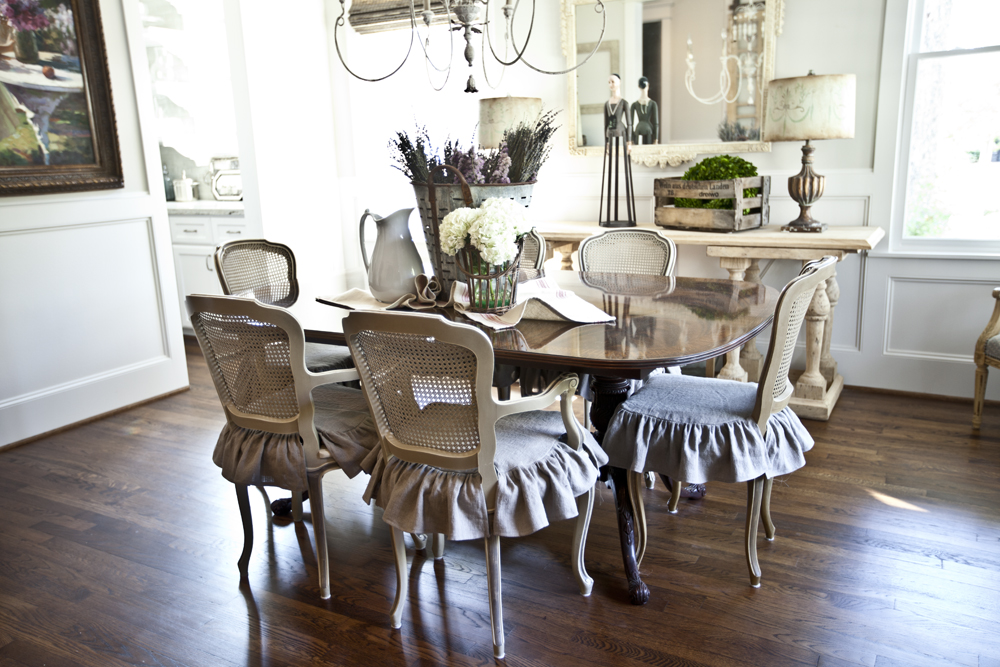 I had lots of fun designing all of the house, but really did some fun things in the powder room down stairs.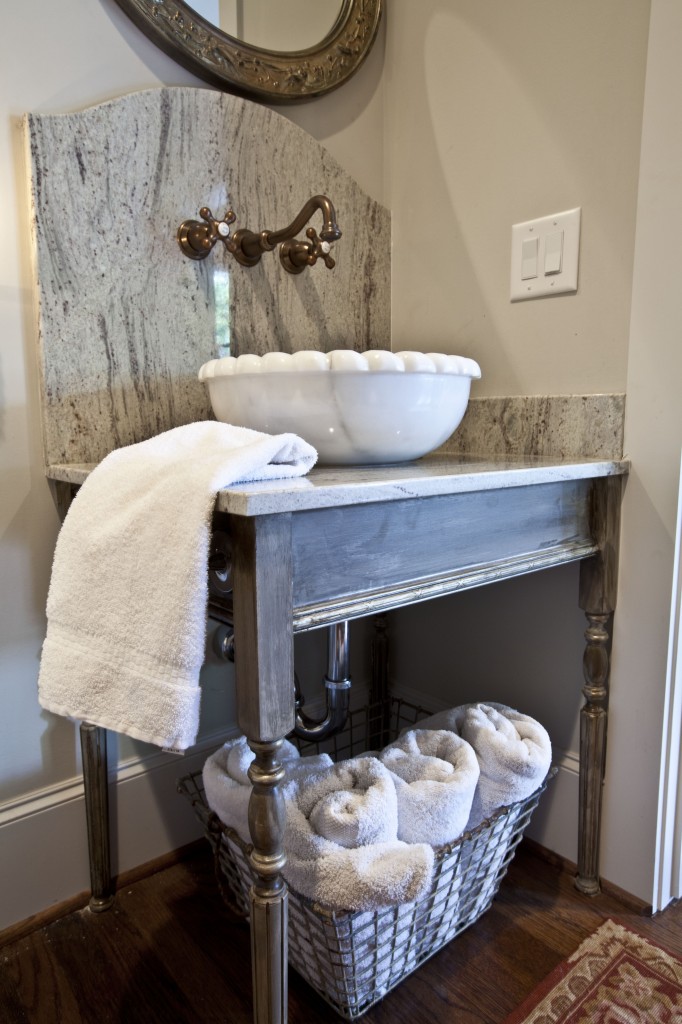 Lastly I'll show you my bedroom, which is such a treat at the end of the day.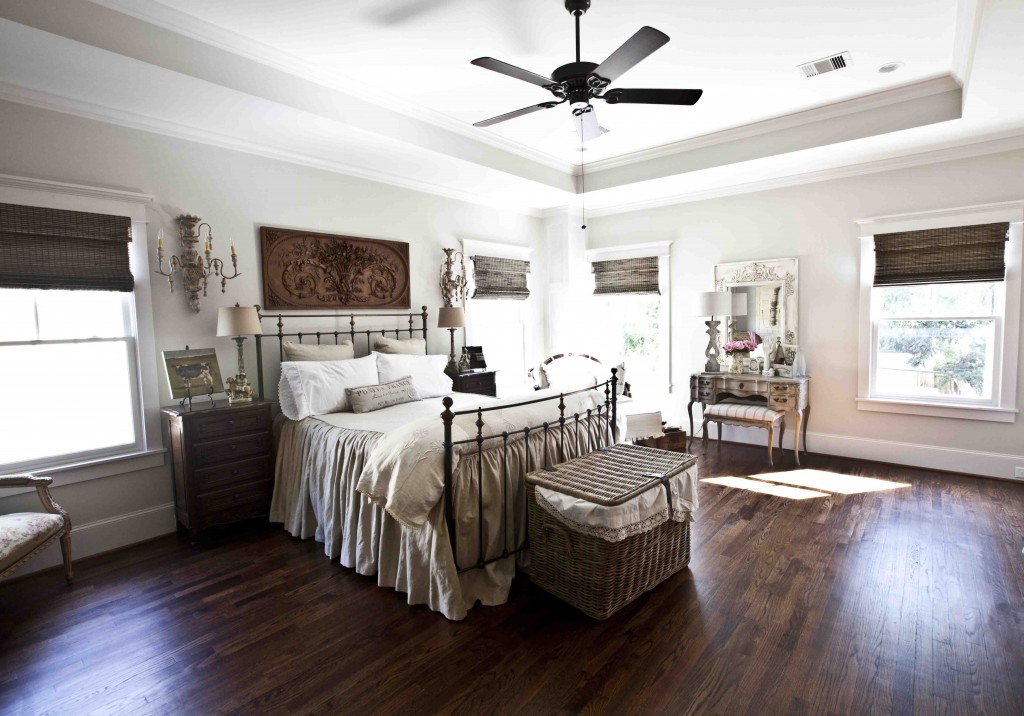 Did I say I was done? I forgot to show you my closet!!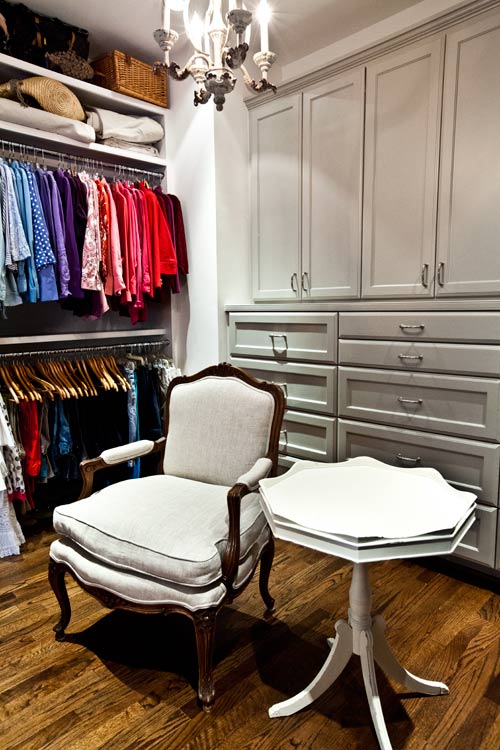 Oh wait, I didn't get to the girls' rooms or my bathroom, the laundry room, the porches, and wait, what about the farm??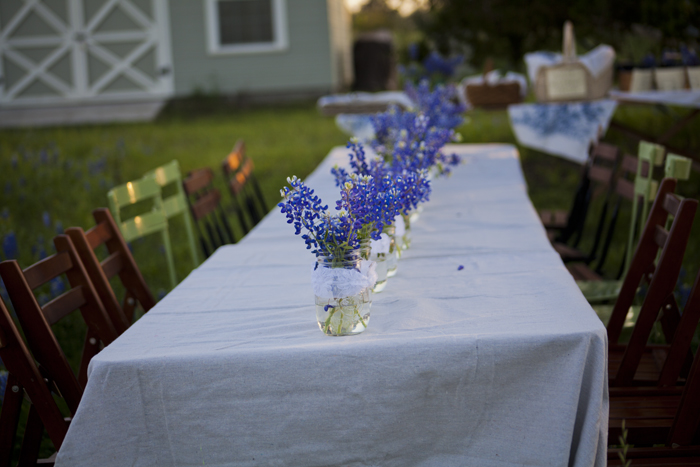 Well, you are just going to have to come visit me over at www.Cedarhillfarmhouse.com to see the rest. You can see the farm tour here, and the rest of the city house can be toured here.
Thank you Vanessa and Heather!! I love, love ya'll bunches!! (Aren't they the BEST???)
Anita
Cedar Hill Farmhouse – Country French Design
www.cedarhillfarmhouse.com