Whew!  It's  been a busy week around the picket fence!  We hosted a virtual baby shower, we survived the "The Great Blogger Freeze of 2011" (thanks Leslie at Goodbye House Hello Home for giving an appropriate name to that fiasco) and we managed to still get Inspiration Friday up! What a week! grin.  While in the midst of all of this chaos and upheavel, I was able to FINALLY convince Bama Boy and Will "The Tool Man" Taylor (best neighbor on the face of the earth) to install my new shelf.  New shelf you ask?  You did ask yourself that right? YEP!  My frugal DIY shelf for above my beautiful new buffet!  Here is what my buffet area looked like right after we removed the planning desk and installed beadboard to this area.

I just LOVE it.  But, it was looking kind of bland. (even though the stuffed horse hanging over my stair railing does give it that extra special something…don't you think?) I wasn't exactly sure how I wanted to "style" it.  I knew I wanted lamps and I wanted a way to display a few more of my "special" pieces.  I decided that this space needed a shelf.  But not any old shelf…a special shelf.  One that would span the length of the buffet.  On the other hand I did NOT want to spend a fortune.  Um…hello!  Have you priced nice shelving?? Even the little shelves are expensive.  Let alone a 65 inch one!  Hundreds of dollars people!  Well we couldn't have that…so I decided to build my own!  It was so easy…how easy was it?  I will show you.
 I purchased a long board from Lowe's.  I wanted something with a nice paintable surface. It was 7 feet long X 7 1/2 inches wide X 1 inch thick,  so we did have to cut it down to size.  I also purchased 4 decorative wood brackets.  Why four?  Well, I wanted them to look substantial since the shelf was so long.  It was a good decision as you shall see!  In addition to the board and the brackets, I purchased 8 feet of decorative wood trim that was an 1 1/2 wide.  But that's wider than the board..yes, yes it is and you will see why!
First we cut the board to the length we wanted, 65 inches which is the length of the buffet and gave it a light sanding to remove any rough places.  They we painted one coat of primer onto the board, the trim and the corbels.  Once that had dried we measured and cut the trim.  One long piece and two side pieces, mitering the corners.  Mitering trim that is upright and not laying flat (like picture frame trim) is a little tricky to miter.  You must hold it upright and not lay it flat, to get the right cut. There are many tutorials online if you are unsure. Once you get your corners mitered, you need to attach your molding to the front edge and sides of your board using wood glue and masking or painters tape to hold it in place.
Now, if you will notice the molding has added a lip to the top of the shelf.  Yep, that's on purpose.  First, it adds substance to the shelf.  When looking at the shelf from the bottom or sides it looks quite a bit thicker than it really is, which makes it look more expensive.  Second, by adding the lip to the top of the shelf it works to protect the items I place on the shelf from being knocked off or sliding off.  This is really nice if your shelf is on a wall with a door that might be slammed or if you have kids..or husbands..who might accidentally bump the shelf.  
Here you can see the molding attached along the entire length and width of the shelf.
A closer look at the lip along the shelf
Now don't let any gaps bother you.  That is where caulk comes in.  I went along the the edges and caulked in any gaps I noticed before I began to paint the entire shelf.
Here you can see that I worked on painting the shelf in between working on my cabinet doors…I think I just broke into hives seeing those again.  I am so glad to have that month long project done. really glad. I painted two coats of paint onto the shelf and the brackets.  Making sure that the bottom of the shelf looked really nice since that is what you will see when the shelf is installed.  Fast forward 6 weeks..as my shelf sat in a corner waiting for someone big and strong (make that two someones big and strong) to hang it since shorty me couldn't reach up high enough to hang it herself.  So for my birthday my two favorite guys hung my shelf for me…
I am so HAPPY with my new shelf and my buffet now!  I am glad I chose to use double brackets on the shelf.
My sweet mom-in-law purchased my beautiful nickel drum shade lamps for me.  I then saw this great tutorial from one of our Inspiration Friday links on painting faux fruit white and so gathered up all of my ugly plastic pieces of fruit and painted them white to place in the largest apothecary jar.  The one that covers the ugly outlet behind the buffet.  I searched and searched for who shared it and couldn't find it…so if was you please let me know so I can link to your post and give you credit. 🙂
I also added some antique family silver pieces to the vinette.  On the shelf I placed all of my favorite toile pieces.
The platter was given to be by my Mom.  The red and white one was Bama Boy's paternal grandmother's and the beautiful tureen was given to me by my mom-in-law.  She purchased it from Shakespeare's birthplace many years ago when they were stationed overseas.  It is so special to me!  
Finally I stole the mirror from our master bath water closet (which did not disappoint Bama Boy one bit who always had an issue with a mirror over the toilet…I'll let you process that one on your own…grin) and painted it white, brushing off some of the paint as I went to make it look worn and to bring some of the nickel color through the paint.
I am so happy with the final result and for the progress I am finally feeling with my
kitchen remodel
! I am still working on several projects that I will share with you…and I will give a final reveal soon…I promise!  This week we will be installing new counters and a new sink, putting us another step closer to being finished!  Here's one more photo of this finished project to remind you just how far this little corner of my kitchen has come
Total Cost of Shelf: $40
Shelf Board: $8
Brackets (4): $24
Molding: $8
Paint: already had for cabinets
Up next I want to take a moment to announce the winner of the
T.J.Maxx $25 gift card
that we donated for the
Tuscaloosa Blogger Baby Shower
!  A name was drawn at random from everyone who made a purchase of items through Amazon.  And the winner is…
Lori Jackson
she generously purchased three boxes of diapers and onesies!  
We will contact you to mail you your gift card!  Thank you so much for your donation! Thank you to all of you for so generously giving!
And last but certainly not least…Our
  is one of our newer friends here
At The Picket Fence
…the fabulous Debbie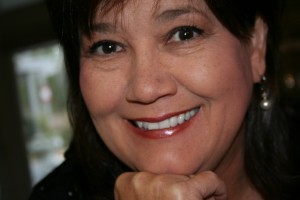 from

She not only has fantastic projects that she shares at reFresh reStyle, she takes the most beautiful pictures of them!
We want to invite you to pay Debbie a visit at her 
gorgeous blog
!  She is creative, talented and super duper nice!  Thank you Debbie for always being so sweet to the gals at the picket fence!  We our proud to have you as our
Featured Blogger
!
And to you our friends…thank you as always for meeting me at the fence!
 P.S. No, you are not seeing things.  The Fence got a face lift..hope ya like it!
This post is partying at the following fabulous places:
Between Naps on the Porch: Metamorphosis Monday
DIY Showoff: Project Parade
The Stories of A to Z: Tutorials and Tips Tuesday
Us and Them: Party with Us and Them
My Uncommon Slice of Suburbia: Tuesday's Treasures
DIY by Design: Swing Into Spring
Savvy Southern Style: Wow Us Wednesdays
Element Interiors: Whassup Wednesday
Goodbye City, Hello Suburbs: Workshop Wednesday
No Minimalist Here: Open House Party
Green Door Designs & SAS Interiors: Saturday Spotlight