Welcome to our round-up of amazing Christmas features from last week's Inspiration Friday! We felt that there were  so many amazing holiday and everyday links that we thought TWO features were deserving of last week's party! Today we are sharing some of our favorite Christmas and Holiday posts and next week Inspiration Friday will resume as normal with another round of features!
So, grab a cup of coffee or hot cocoa and take a moment to enjoy these gorgeous Christmas features!
 Inspiring Christmas Rooms
Laura from Top This Top That shared her beautiful Living Room all dressed up for Christmas and looking so lovely in all of it's winter-y whites and silvers.
 Kathy from Kate's Place showed us her lovely Christmas bedroom and it has such a serene feeling to it. Perfect for resting after those long days of shopping and baking!
Jennifer from Town and Country Living gave us a tour of her entire home all decorated for Christmas but what we especially loved is that she even gave the bathroom a gorgeous winter makeover. So stunning!
Katie from Creatively Living showed off her beautiful Dining Room all decked out for Christmas and there are just so many fabulous details here. We love the numbered burlap chair slips!
Inspiring Christmas Wreaths
Angelina from Shop Ruby Jean  knows the way to a man's heart…a DIY Man's Wreath!
Linda of It All Started With Paint  created this gorgeous Anthropologie Inspired Pom-Pom Wreath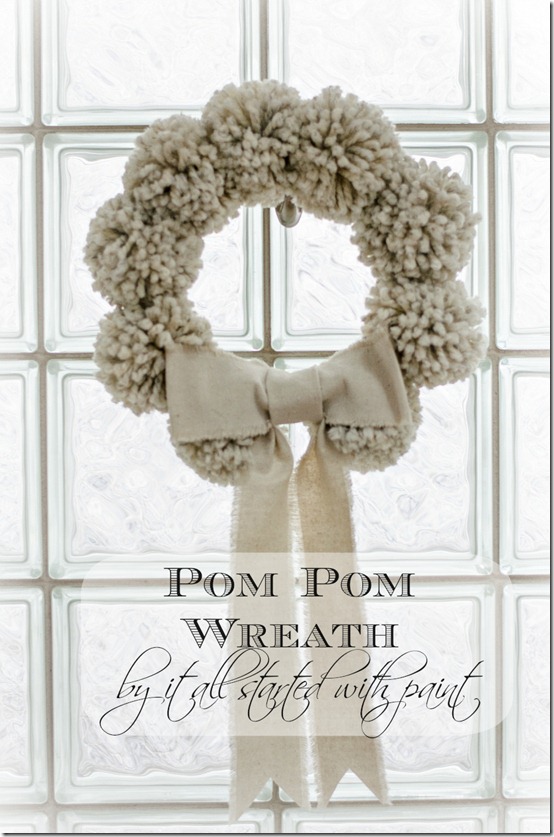 Taryn of Design, Dining and Diapers used some left over dough to create these darling White White Dough Wreaths
Inspiring Christmas Trees
We love Suzy of Worthing Court 's beautiful and meaningful Silver Bells "Memory" Tree
The garden has never looked so beautiful as Kristen of Sophia's Garden-Inspired Tree does!
Cindy of Beaux R'eves designed this classic white Tabletop Tree full of beautiful detail!
Inspiring Christmas Projects
We adore these Anthropologie inspired Frosted Reindeer from Monster Circus
There's still plenty of time to make these DIY Gift Boxes from Brooke of Blissful Roots
These "Sillouette" DIY Paper Ornaments from Ashbee Designs are simple yet sophisticated!
Robin from Happy At Home created this Christmas Woodland Display. We love the attention to detail!
Inspiring Christmas Recipes and Parties
Grab  cup of cocoa and enjoy one of Sue of Munchkin Munchies Cup O' Cocoa Cookies!
Tanya of TwelveOEight's No Bake Gingerbread House is almost too cute to eat!
Tracey of The Kitchen Is My Playground has rounded up her 16 Sweet Treats for Christmas in one post. There's a treat here for everyone!
 Inspiring Christmas Stories
There's only one person we know who could take a simple "Elf on the Shelf" photo shoot and turn it into something so hilarious and so…ahem…naughty. You'll have to go over and visit Kerry from HouseTalkN to see more of the Elf on the Shelf Gone Wrong!
 Debra from Homespun shared how feeding the birds has played such an important role throughout all the stages of her life and the treasured memories that have been created as a result.
 If you have one of the fabulous posts featured here today, we'd love you to grab the I've Been Featured Button!
We hope you've enjoyed these inspiring Christmas project, ideas, recipes and decor! We know you'll want to remember some of these for next year.
Please visit each blog directly to pin these amazing posts so that the original authors get full credit! Thank you!
See you back at Inspiration Friday next week with some more amazing features!