Let's face it. 
If you are going to try and copy a Martha Stewart creation, you'd better have a stiff upper lip, a good sense of humor, and no confidence whatsoever that you will somehow be able to perfectly recreate one of her masterpieces. That being said…I'm just enough a glutton for punishment that I decided to go for it!
I was bound and determined to find something to copycat for this fantastic extravaganza going on this week: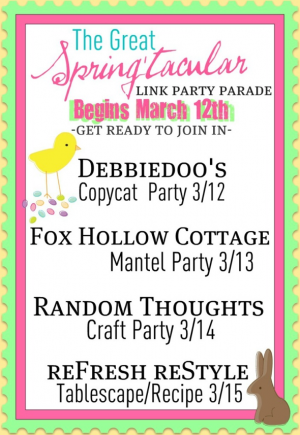 And when I found this photo, I was thrilled to realize I could "kill two birds with one stone" by doing a Copycat Mantel and linking up to two of the parties.
Hee Hee…get it…birds…eggs…nests…that one was just too easy!
While I knew I had a white cake stand which would work for one of the nests, I had to improvise for the other. So, I dug through my candle holders and found these brass ones. I gave one of them a couple of coats of white spray paint so that I could use it as the base. Don't you just love how I didn't even take the time to scrape of the leftover wax before I sprayed it? I'm super detail oriented like that!
Then I just put one of the salad plates from my china on top!
I decided to use this shredded paper for the "nests" since it was cheap (or should I say "cheep"!) and at the store I was in at the time.
I simply piled on the shredded paper and nestled down in some pastel colored eggs 
that I already had on hand. 
I loved the flowers Martha used, especially that they were so tall.
But, alas, these shorter daffodils were all I could find.
I have some kind of sneaking suspicion that Martha planted the bulbs for those longer stemmed flowers WAY ahead of time just knowing she would use them for this mantel! 
Wouldn't that just be like her?
For vases I simply used 2 of our drinking glasses.
And now for the dreaded side-by-side comparison.
Don't judge.
 
                      Martha Stewart                                                         Vanessa's Copycat (duh)
Martha also used more flowers and they actually seemed to stand up straight as opposed to mine which just wanted to flip and flop all over the place.
Actually, I kinda wonder if she just gave hers a "look" and they straightened up right quick!
I'm not sure that I will ever attempt another "Martha" copycat (since it seemed to bring up all sorts of insecurities I didn't even realize I had!), but I sure am loving my sweet little 
Family Room Spring Mantel!
And, while we are on the subject, I'm just gonna toss another mantel your way!
This one is in our Living Room.
This mantel is really loooong, making it a bit of a challenge to decorate at times. I know I could just fill it to the brim with stuff but I really like to see some open spaces in between the items.
I was so excited to find these silver mint julep cups at Goodwill and if you look very closely you can see that they are monogrammed. It kind of makes me sad that someone just gave them away. 
I felt like going all "Murder She Wrote" and solving the Mystery of the Monograms!
These urns also joined the family and I was pleasantly surprised to see how well this shade of blue worked in my home. Their $9.99 price tag didn't hurt either!
Some flowery branches were added.
And if this doesn't say "Spring", I don't know what does!
My botanical paintings were just made for this season, don't you think?
 Now, if only the rain would stop long enough so I could get out and plant some real flowers!
Thanks so much for joining me and my mantels today at the Fence,
You'll find us partying here this week:
This post is sponsored by: