We are so excited to have the lovely Anne of White Lace Cottage here with us today, giving our picket fence friends a tour of her beautiful "shabby chic" cottage!
 Heather had the privilege of meeting Anne last year and she is every bit as lovely and kind in real life as she is on her blog!  Come take a room by room tour of White Lace Cottage with us….
So thrilled to be a part of At The Picket Fence parade of homes! Thank you so much Heather and Vanessa for inviting me. 
Hi I am Anne from White Lace Cottage, welcome to our home. We have been in our home for almost 8 years now and I have made many changes over the past three years. When you have a home you know how it is, a process to make your house a home.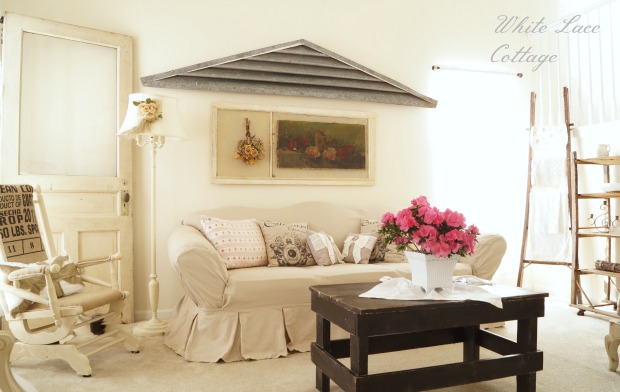 My style is a bit eclectic,and I really can't describe it in one word. Many people say I am Shabby Chic,but I also love farmhouse,and industrial too. Most of my furniture and accessories have purchased at garage sales,thrift and antique shops.
That black table was a recent thrift find,I just cut the legs down to make it a little shorter. You will notice in my home that chippy paint and wonderful vintage patina is a must.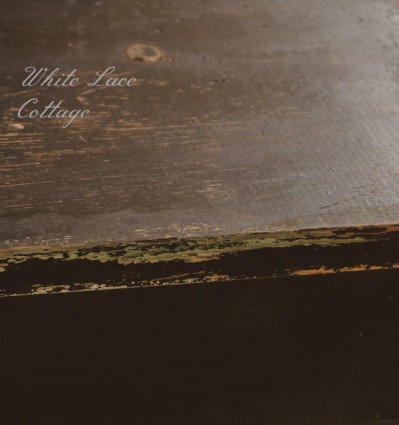 I am always on the hunt for unique treasures for my home and my online shop. You will find vintage doors in almost every room of my home. They make interesting architectural pieces for a room.
This door has an amazing color and patina.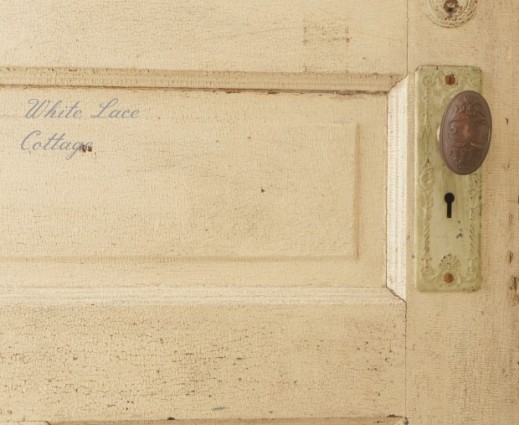 If I find a piece of furniture that has great bones I know I can easily paint or reupholster it.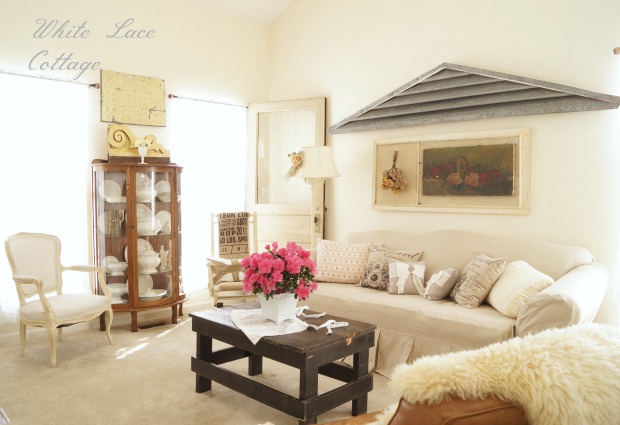 Those chairs were both painted and reupholstered ,an easy way to update furniture. A slip cover on a sofa is a great way to update a piece of furniture too. You would not believe how ugly that sofa is under that slip cover.
My dining room set was purchased many years ago,when buying new furniture is not an option paint is a great alternative.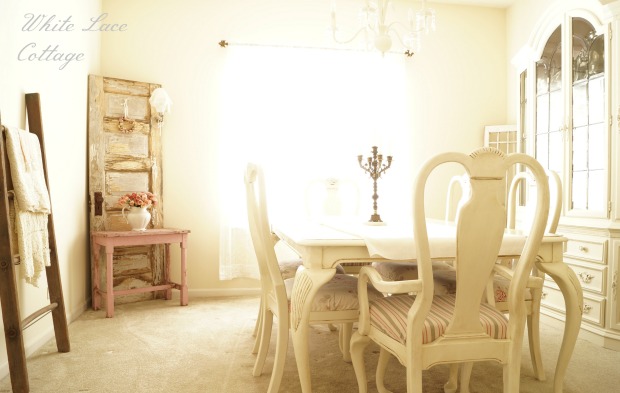 This room may seem very bright and white to some,but I love it. Even on a winters day it always feels sunny.
My chairs were reupholstered with scrap fabrics from a thrift shop.  That chippy door and table are two of my favorite pieces in my home and it is where I take my photos for my shop.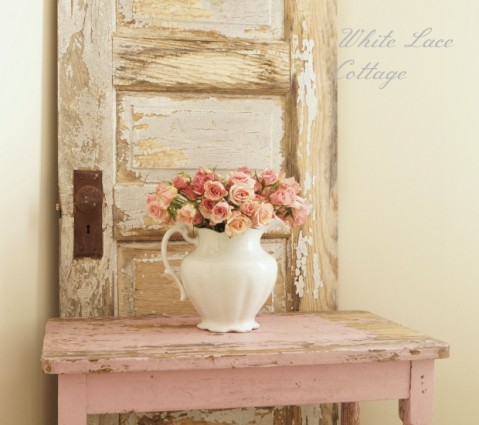 I love fresh flowers in my home, In the summer months I cut off blooms from my garden,but this time of the year I must buy mine at the market. Fresh flowers bring a little color and warmth in our home during this time of the year. I do enjoy dried flowers too.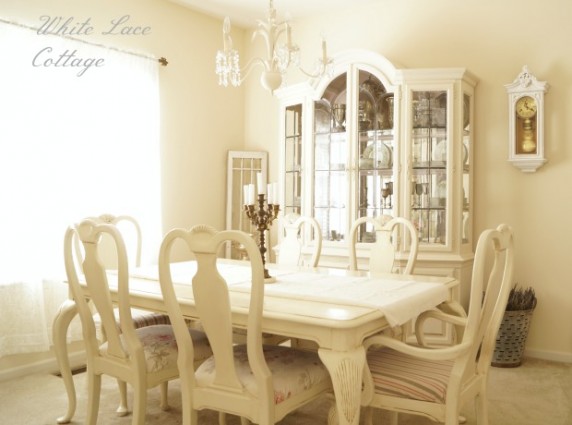 I recently painted my dining cabinet white,I love the simplicity in this room.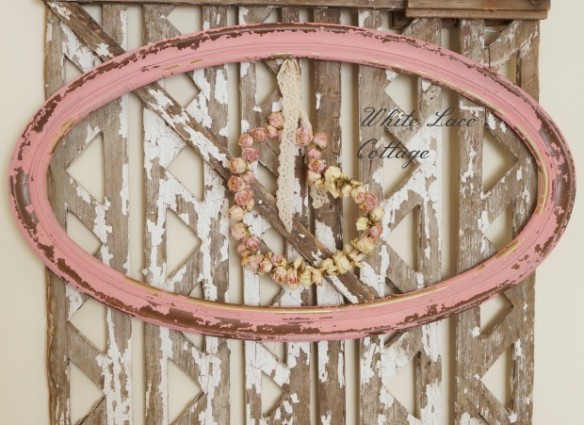 A fun piece just added to this room is this frame. I already had this old chippy garden gate,I simply added this frame and a dried roses heart wreath.
I love the texture of chippy paint and dried flowers.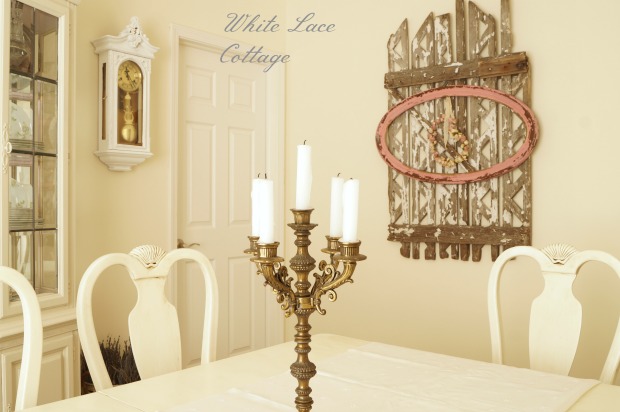 One of my favorite rooms of our home,and the one room that changes the most is our kitchen.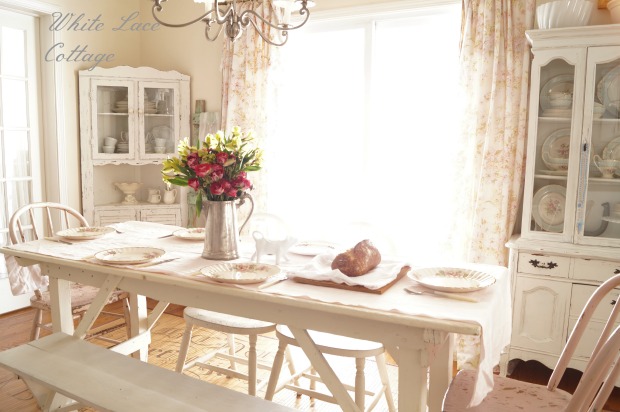 I am blessed to have such a large kitchen,I move furniture around quite often. Especially in my corner,I have had different doors,tables,chairs and benches here it's always changing.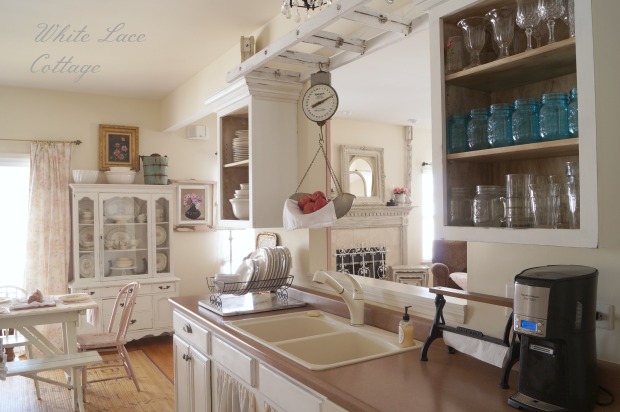 I love my open cabinets,it is so nice to be able to reach in and grab what we need. That ladder added across my cabinets is a fun way to connect the two cabinets.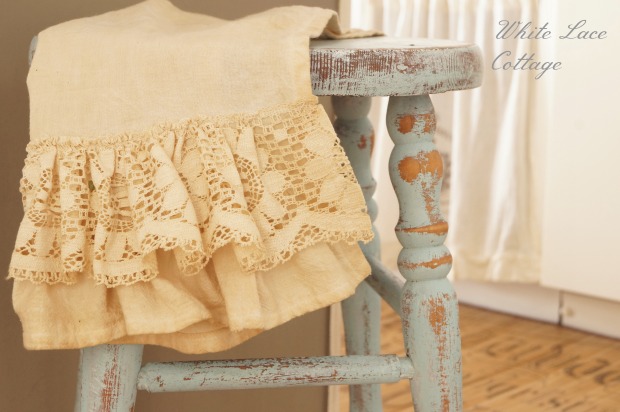 My kitchen cabinets were originally dark cherry maple,but it did not go with my style. I painted them a few years ago with Annie Sloan chalk pain in pure white ,it was the best decision ever! They have held up beautifully after almost two years!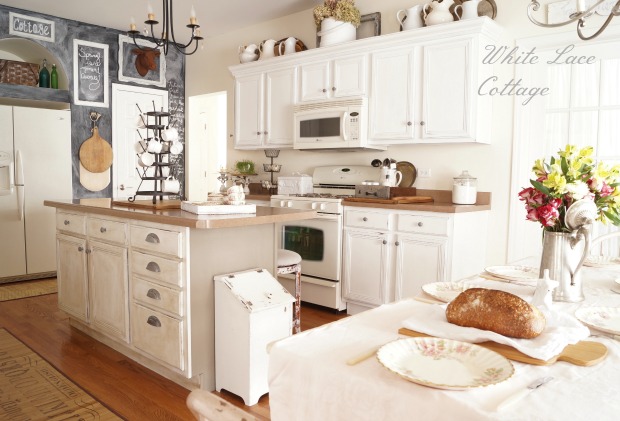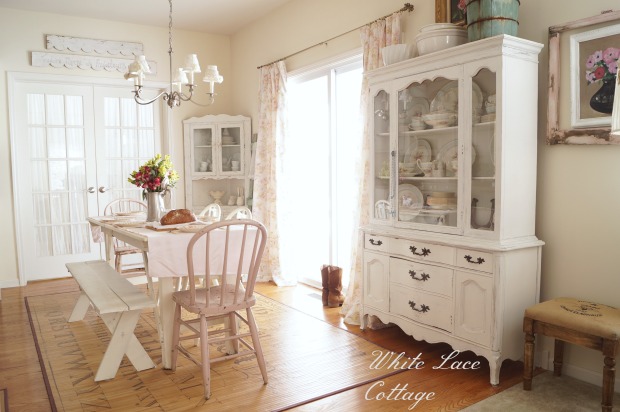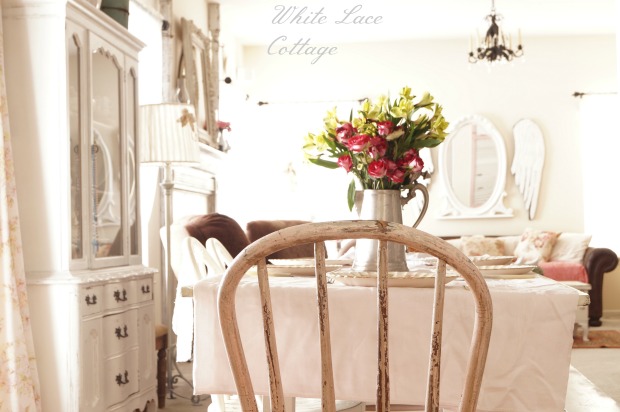 You will see touches of pink in my home. Besides white, pink is one of my favorite colors.
I am head over heals in love with any vintage chippy pink pieces I come across.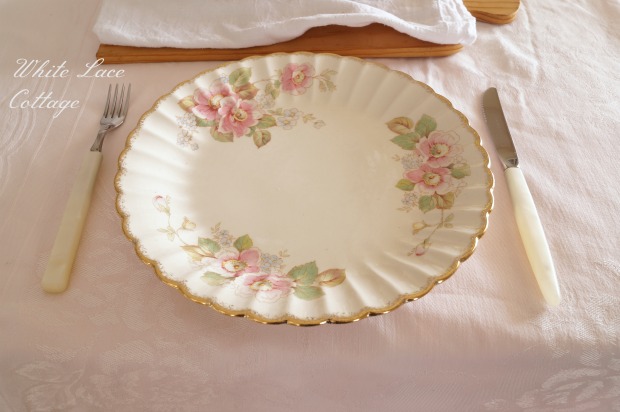 I love white ironstone and have quite a collection,but I also enjoy using vintage floral dishes too.
This set was a recent gift given to me by a friend. My soft pink table cloth is from France it was purchased many years ago.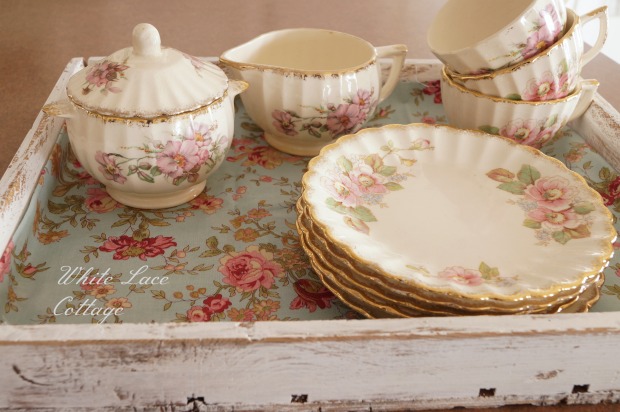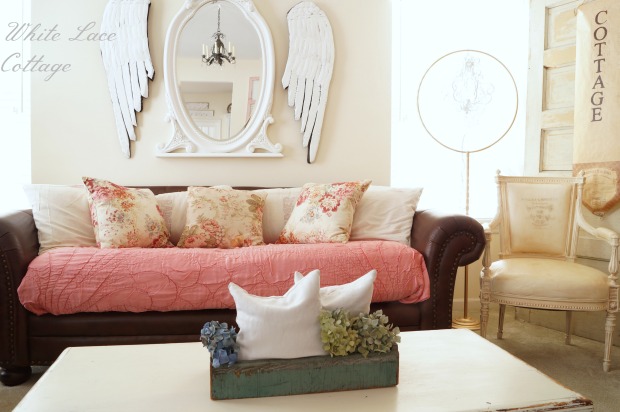 That chair is actually a fabric chair painted with Annie Sloan old white,antiqued and waxed. I also added an image transfer that looks a bit old and worn.
And yes yet another door,that was a gift from a sweet friend. That banner was made from a vintage piano roll. Sometimes you have to work with what you have. Just to add a little color to off set the brown furniture I added a vintage pink satin blanket to the sofa.
The large pillows are vintage seed bags stuffed with the sofa pillows.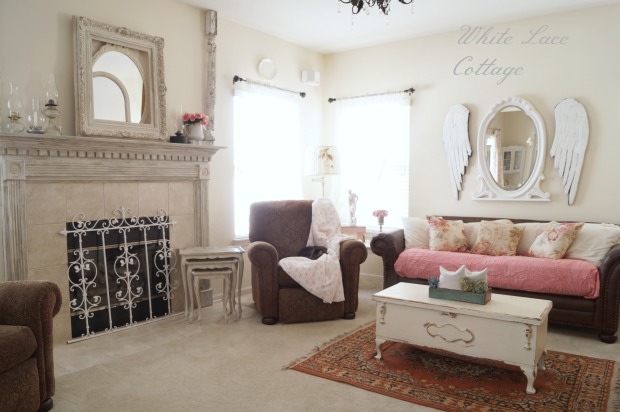 My mantle changes quite often,right now I just have a few vintage mirrors and frames. Those posts were cut to fit on the ends of my mantle. I don't have an electric saw yet,so yes I hand cut them. It was quite a work out!
That gate in front of my fireplace is not old,it was found at Hobby Lobby ,I painted it white.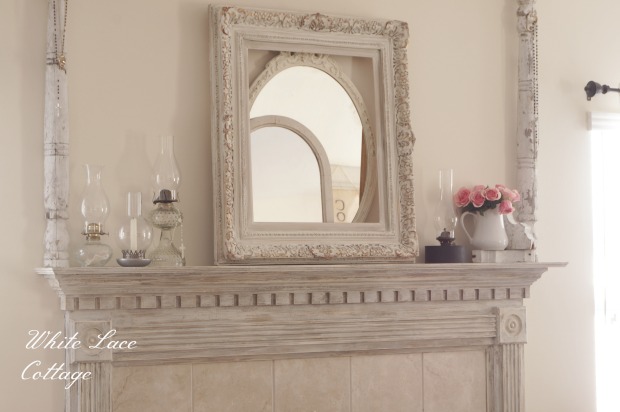 I am sure you spotted that little fur ball on my chair. She did not want to be out of the photos,and I could not wake her up. Yes she is a bit spoiled.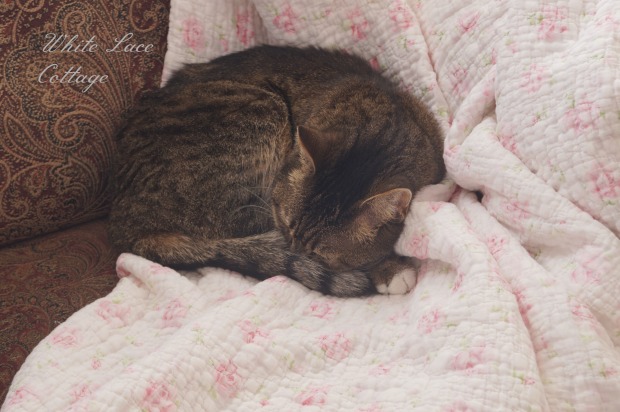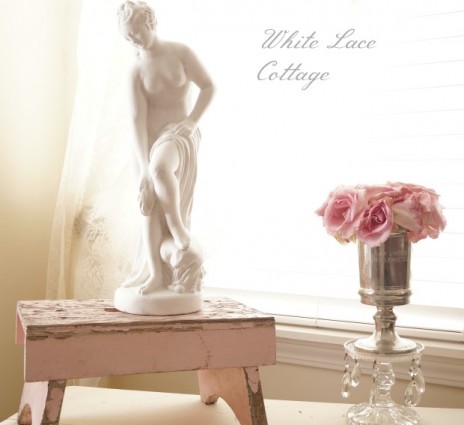 Love finding chippy pink pieces like this sweet little stool. I don't use vases for my flowers,old trophies, ironstone pitchers, or and old silver coffee pots can make a wonderful vase.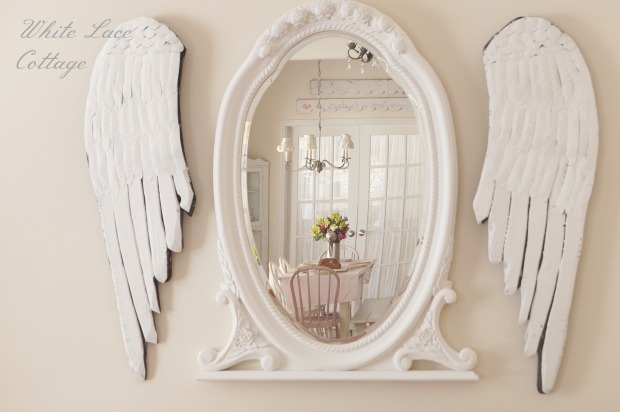 One area that is always a challenge to decorate is my wall behind my sofa,recently I won this pair of Angel wings from Decor Steals. I already had the mirror and just paired these together. And I do love the reflection and light mirrors bring to a room.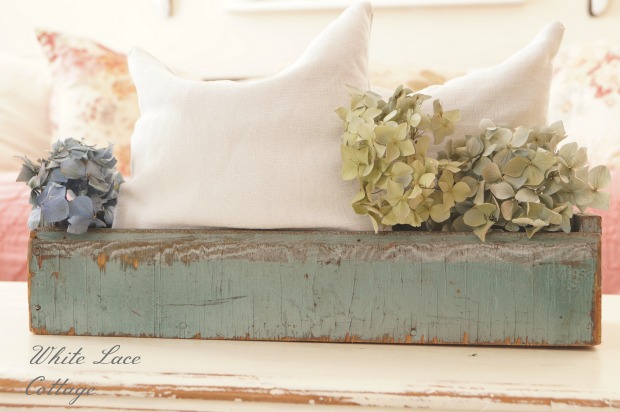 Thank you so much for letting me share my home.
You can visit me at my blog White Lace Cottage and my Shop.

Be sure to follow Anne on Facebook, Pinterest and on Google+  Have you seen all of our other lovely At The Picket Fence Parade of Homes? While you're over here go ahead and take a peek…you'll be inspired!
See you back here soon….at the picket fence!