There are a few traditions associated with The Kentucky Derby that are a must.  Horses, Hats…and Mint Juleps!  First consumed in the late 1700's, the granddaddy of cocktails, The Mint Julep, was traditionally served on Kentucky Derby Day.
Comprised of a few simple ingredients, mint is the defining component of this popular Southern drink.
Served with Kentucky Colonel Mint and a high quality bourbon (also a Kentucky native) this cocktail is sure to please the most discerning and sophisticated among us!
and of course if you want to really serve these drinks properly…you must serve them in a silver mint julep cup!
Classic Derby Day Mint Juleps
from At The Picket Fence
1/2 ounce simple syrup
3 mint sprigs
2 oz. high quality bourbon (we love Makers Mark!)


Muddle the sugar, one mint sprig, and the bourbon in a mint julep cup or rocks glass.
Add crushed ice and garnish with the remaining mint sprigs. (Serves 1)
The perfect accompaniment to a mint julep is a slice of Kentucky Derby Pie.  This is our families Kentucky Derby Pie recipe, and it couldn't be a more simple but decadent pie to make.
Kentucky Derby Pie
from At The Picket Fence
1 cup sugar
1/2 cup flour
2 eggs, slightly beaten
1 stick butter, melted
1 cup pecans
1 cup high quality semi-sweet chocolate chips
1 tsp. vanilla
1 unbaked pie shell (homemade or store bough roll out shell)
Pre-heat oven to 325 degrees. Mix sugar and flour together well in mixing bowl.  Add eggs and melted butter, blend together well.  Add coarsely chopped pecans, chocolate chips and vanilla, mix well.  Pour mixture into unbaked pie shell.  Bake for 40-45 minutes and light golden brown on top.  Allow to cool for 20 minutes. (Serves 8)
If you are hosting a Derby Party this Saturday, you can't go wrong with serving these two classic Derby Day recipes, your guests will think you are a Derby Day Diva!
Check out all of this week's amazing Derby Day Posts from my fellow Kentucky Bloggers!
We kicked off Derby Week over at
The 2 Seasons
, where we got a history lesson on the Kentucky Derby.
Up next, the fabulous Carmel of
Our Fifth House
showed us how to incorporate the most important aspect of the Derby into our home decor, the horse…of course!
Then we headed back over to
The 2 Seasons
for a lesson on hats and hat making!
The lovely Kari Anne of
Thistlewood Farm
is teaching us how to monogram our own glasses
(us Southerners love a monogram!)
and is sharing a great Lemonade Mint Iced Tea recipe.
Be sure to stop by and visit all of these amazing and talented gals…
and a big thank you to the fabulous mother daughter team of Janette and Jordan at
The 2 Seasons
for hosting this great Derby Day Party!
Now ya ready for some fabulous features from last week?!


INSPIRED ROOMS
This kitchen makeover from Blissful Blooms will definitely put a smile on your face! With all of these charming details, you wouldn't believe how this space started out. It is definitely an amazing transformation!
Our friend Richella from Imparting Grace shared her beautifully redone Guest Bedroom.
Our bags are packed and we are on our way Richella!  Two beds, two sisters…perfect, right?
We promise not to jump back and forth on them like we did on the one's at our Grandma's house years ago!
and since we're hanging out in your bedrooms, we just had to share Erin's, from How to Nest for Less, beautiful  master bedroom makeover.  She installed wood paneling in her beautiful master bedroom makeover and gives a full tutorial on how they created this look, you could be installing some yourself in no time!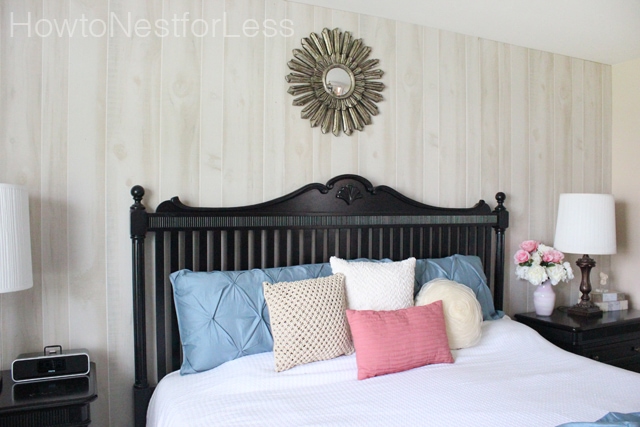 MAKEOVER
Kristin of A Vintage Fairy did an incredible job on this PB Knock-Off! For literally a fraction of the price (the Pottery Barn piece was $999!) she gave this a wonderfully vintage look and we love the two tone paint treatment on the doors.
Angie from Postcards from the Ridge upcycled this their dining room buffet into this gorgeous bathroom vanity.  She shares the step by step instructions of this beautiful makeover!
This harlequin table makeover from Rukmini at Trumatter is fabulous! She shares how she painted it as well as how she was inspired be her Granny.
CRAFTS and CREATIONS
Jo-Ann from Growing in Grace showed us how to make this darling House Number Flower Hanger!
We love any kind of two-for-one project!
Kendra from the The Good Life, Adventuring Through Goodwill, created this adorable ruffled dress…out of a bed sheet! Isn't it adorable? We applaud your creativity and ingenuity!
Aimee at It's Overflowing showed us how to knock-off this beachy Pottery Barn vignette, for just a few dollars! Makes us so ready for summer!
RECIPES
Rebekah from Woven Home shared this guilt free Strawberry Trifle with us last week…guilt free?! We're all over that!
Pulled Pork Pizza with Caramelized Onions and Apples? Yes please! This recipe came to us courtesy of Ashbee Design and all we can say is that we might have drooled a little bit when we saw it.
and Lori from The Stonybrook House shares her "world's best" Homemade Granola Recipe with us, who wouldn't want to start the morning out with a big bowl of such loveliness!
Inspiration
Meredith of I Am a Mother Seeking, allowed us a glimpse into how she honored her daddy on the anniversary of his death by celebrating his life. Thank you Meredith for sharing this with us!
If you were featured today (or have been featured in the past) please grab the featured at button code located on our Buttons Page found under our header!
Are you following At The Picket Fence on Facebook? Don't forget we feature many of your links during the week on our Facebook Page! If you've been featured there, grab a button as well!
Are you following us on
We sure hope so! BUT…We have a SPECIAL REQUEST of you, if you visit INSPIRATION FRIDAY and like to PIN the great projects you see here! Please pin from the ORIGINAL SOURCE and not our blog…unless it's one of our own creations, then by all means pin away from here…we won't mind! 😉
Thank you to everyone who shared so many fabulous posts with us last week! We appreciate you!
Now it's time to share with us what has inspired you this week!
Thank you so much for joining us for Inspiration Friday at the Fence,
When you are done linking up head over and party with the other Friday Party Friends:
Now all ya PARTY PEOPLE it's time to link on up…here's some instructions for Inspiration Friday
Link Up any post you've written that has Inspired You and will Inspire Others-it can be a home improvement project, craft, recipe, story, devotional…if it inspires link it up!

Be sure to link back to your original post  and not just your url (main blog address)

Please post our button

(code on our Buttons Page found at top of blog) or a text link on your blog so others can join in the fun!

(MANDATORY to be featured At The Picket Fence) Tutorial on how to link up a button: Blogging 101

Visit another guest. Please try and visit at least the link directly above and below you! We try to visit as many posts as we can but as Inspiration Friday grows sometimes we miss some and for that we apologize. It makes us feel good knowing others are visiting people as well! Thank you..it truly means a lot to us
And while it's not a requirement, we'd sure love ya to be following along with us in some capacity! Below are some great options!
This Inspiration Friday Party is Sponsored By: