I'm nominating myself for an award. It's probably not one you're familiar with but I think I have a really good shot at winning this one.
It's called the 'Longest Amount of Time for Having a Hot Cocoa Station in Your Home' award.
Oh, you haven't heard of that one? 😉
You see, waaaaaaaaayyyy back in early November I transformed the little buffet table in our breakfast nook into a fun hot cocoa station for my family.
Bing Crosby was crooning in the background and the spirit of the season was making it's way through the whole house. The kids came home from school and immediately wanted to put the station to good use. They ooooohhhed and aaaaahhhhed and quickly got high on marshmallows and peppermint sticks.
November went by, December went by, January went by and when February rolled around I decided that I was over it.
My kids, on the other hand, were not. They begged for me to keep it there just a little bit longer.
So it stayed.
Until March rolled around and it literally made me grumpy every time I walked past it.
It was time to Spring forward! To say goodbye peppermint sticks and hello lemons and birds nests and blooming branches!
So everything got cleared off and I started fresh. All of this took about 10 minutes and I simply pulled things from around my home and put them here.
It was easy and FREE!
I started by keeping the lamp and the vintage scale on the table.
A white bowl with faux lemons gives such a fresh pop of color.
Next, I added a simple stack of white plates. On top of that, a silver creamer and spoons add some shine.
A vintage butter box which belonged to my grandmother brought in a different tone and some white cocktail napkins were tucked inside to add a little bit of softness.
A sweet little birds nest was placed on top of the vintage scale. So simple and so easy!
And finally some faux spring branches were placed inside a glass jar.
I mean, does it get any easier?? Or free-er? 😉
So, now I'm happy to accept the award for
'Longest Amount of Time for Having a Hot Cocoa Station in Your Home'
I'd like to thank my family for being there for me through all of these months. Through the stale marshmallows and the times we ran out of cocoa and when we had to borrow the chocolate chips from the hot cocoa station in order to have them in our pancakes on Saturday morning. And God. I'm thanking God. And I want world peace. And now the orchestra is playing which means it's time for me to get off the stage which is a good thing since I'm so emotional about this award and can't hold back the tears any longer. 😉
So thrilled to be joining these ladies again this month as part of our ongoing Budget Decorating Series!
Make sure to pay them a visit to check out their ideas!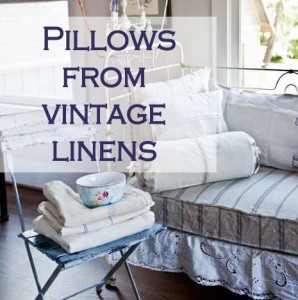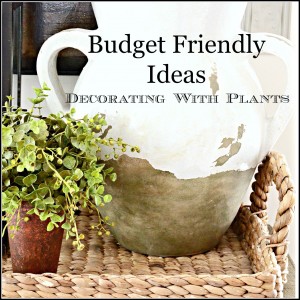 STONE GABLE