After narrowing down the top ten finalists, the generous folks at LG made the final winning selection.
And the winner is…
Here is Mia's winning entry:
"
I would have to call my style: "The Precision Pack."
And I'm probably going to fly my OCD colors a little too candidly, here, but I'm the kind of gal who will RELOAD THE DISHWASHER if anyone tries to "help" me. :/ 
Growing up, we didn't have a dishwasher 
(my parents would always correct that statement with a quick 'Yes we do, we have the Mia-and-Bethany-4000-model'!)
and from scarring years of handwashing twice a day- once before and once after dinner- I have to confess that I don't pre-rinse a single thing before loading at my house. Because of this, I demand the ultimate efficiency out of a dishwasher. 
I load it with great care and order: always like items together, graduating sizes, even color coded. For example: Silverware. Those little cubbies are for sorting out types, people! Forks? Together! Spoons? By themselves? Knives? Separate. Also? Put those dangerous, pointy ends UP so they get washed well! You're not going to get that organic Adam's peanut butter off a knife if the end is tucked down hiding away with all of his buddies! Don't whine at me about your kids potentially cutting their sweet hands when they help you out- THIS IS NOT CHILDREN'S WORK. It's an art. 
My [superior] technique is not just about efficiency in thoroughly washing the most amount of dishes per load, but also for optimal UNLOADING efficiency. 
I dare say that if there were dishwasher loading & unloading Olympics- I would probably dominate."
Congratulations Mia!! 
We are so excited that you will get to meet Vanessa in NYC 
and we know you will have a fabulous time. Thank you so much to all of you who entered this contest!
Now, the Fall lovin' madness is definitely in full swing here at the Fence and all around blogland too!
This week was all about simplicity and Vanessa shared with you her Fall Mantel:
while Heather shared with you a Fall Dining Room Vignette.
We also have an another awesome giveaway going on right now and there is still plenty of time to enter to win a $350 Prize Pack Giveaway from Shutterfly! Just in time for the Holidays!
We also welcomed two new Sponsors to the Fence this week!
First we have the incredible Nostalgic Bulbs Company 
Where you can find incredible deals on Vintage Inspired Items like this
Nostalgic Spiral Radio Bulb
We also welcomed the wonderful Etsy Shop rosekraft
where you can find Vintage Victorian Decor, gifts and ephemera, like this 
Bell Jar with Quail Egg Mini Cloche.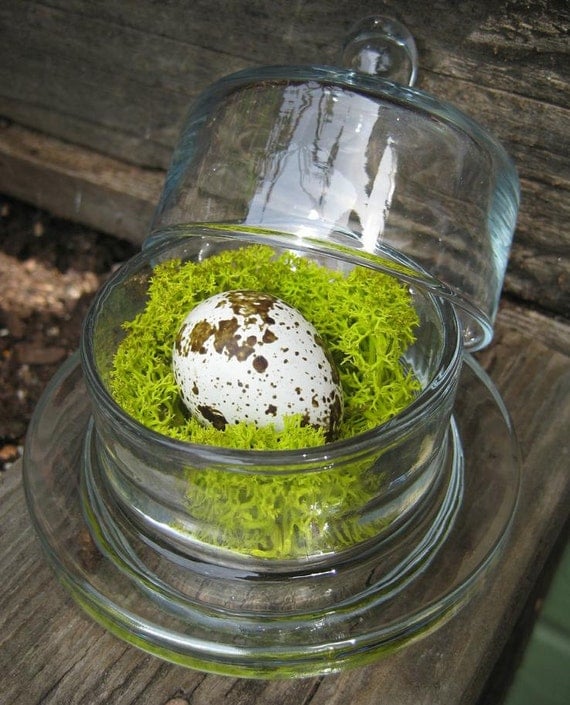 Now onto this week's Inspiration Friday Features! 
INSPIRED ROOMS
Christie from Three Pixie Lane shared her incredible Kitchen Remodel and we think the final results are truly stunning! 
Martina from Northern Nesting shared how her living room is changing with the seasons and we just love the rich, warm tones!
Lori from My Heart with Pleasure Fills proudly showed off the darling nursery she helped her daughter create for the precious twin granddaughters coming her way very soon. 
Lori made all of this beautiful bedding!
INSPIRED MAKEOVERS
Jen from The Thrifty Home shared the beautiful makeover she completed on her kitchen including painting all of her cabinets!
JP from Sweet Inspirations gave an old washstand a Rustic "Shabby Glam" Makeover and in the process gave it a new life! 
INSPIRED CRAFTS AND CREATIONS
Lori from The Stonybrook House showed us how to make this fantastic Pallet Art and since this hymn was sung at Vanessa's wedding it is definitely near and dear to her heart.
Kelly from Coastal Cottage Dreams shared her exciting new business venture with us!
She is launching an Organic Soy Candle Business called Palmetto Wicks and we are so excited for her and wish her much success!
INSPIRED RECIPES and PARTIES



Barbara from 21 Rosemary Lane shared this scrumptious recipe for Chocolate Pumpkin Cheesecake Bars. Yes please!

INSPIRED FALL DECOR
Ugh. This is a really HARD category to narrow down to only a handful! But, we'll give it a shot!
How about these
Spooky Halloween Poison Bottles from Art is Beauty
?
Debbie from Debbiedoos showed us how she made her darling Fall Mantel Banner and she promises that it's "easy peasy"!
We love this idea for painting acorns from Freddy & Petunia! Think of the possibilities for working this into your Autumn decor!
Kirstin from Craftiments showed off her beautiful Fall Mantel complete with twine, corn husk and fabric pumpkins!
Claire from The Rustic Pig honored us with the story of how her family has been impacted by the life of her darling nephew since he was diagnosed with Down's Syndrome.
Kristin from Simply Klassic Home shared with us an incredible story of two lives (and two blogs) that are uniquely intertwined and a friendship that has stood the test of time and heartache.
If you were featured today (or have been featured in the past) please grab the featured at button code located on our Buttons Page found under our header!
We have a SPECIAL REQUEST of you, if you visit INSPIRATION FRIDAY and like to PIN the great projects you see here! Please pin from the ORIGINAL SOURCE and not our blog. Thank you! Don't forget to follow us on Pinterest where we also pin each week's Inspiration Friday Features. 
Thank you to everyone who shared so many fabulous posts with us last week! We appreciate you!
Now it's time to share with us what has inspired you this week!
Thank you so much for joining us for Inspiration Friday at the Fence,
When you are done linking up head over and party with the other Friday Party Friends:

Now all ya PARTY PEOPLE it's time to link on up…here's some instructions for Inspiration Friday
Link Up any post you've written that has Inspired You and will Inspire Others-it can be a home improvement project, craft, recipe, story, devotional…if it inspires link it up!
Be sure to link back to your original post  and not just your url (main blog address)
Please post our button (code on our Buttons Page found at top of blog) or a text link on your blog so others can join in the fun! (MANDATORY to be featured At The Picket Fence)Tutorial on how to link up a button: Blogging 101
Visit another guest. Please try and visit at least the link directly above and below you! We try to visit as many posts as we can but as Inspiration Friday grows sometimes we miss some and for that we apologize. It makes us feel good knowing others are visiting people as well! Thank you..it truly means a lot to us
This Inspiration Friday Party is Sponsored By:
where you can find Decorative Pillow Covers Like This