In my mind the word Brunch = Fancy. But not too fancy.
Not sparkly dress and pointy-toed stilettos kind of fancy.
More like a cute sundress and espadrilles.
It's taking the everyday routine of cereal for breakfast and peanut butter and jelly for lunch up a notch…or two…or three.
Toss in the word 'buffet' and you definitely don't have to worry about anyone thinking it's too fancy!
We're not talking the "all you can eat" kind of buffet. Although I promise I always have enough food to go around!
No, I'm talking about a Spring Brunch Buffet that blends casual and elegance and maybe makes you feel a bit fancy too. But not too fancy. You don't even have to wear espadrilles. Maybe you just want to wear flip-flops. That's OK too. You might consider the ones with the little sparkles on top though. We'll call them your "fancy" flip-flops.
And then we'll make you say that five times fast.
Hosting a Spring Brunch Buffet means you can get away with things you wouldn't normally attempt. Like putting a birds nest on a plate on the table alongside the food. Because, well, it just felt right…and fancy.
I might even feel like stenciling some Spring-y scenes onto flour sack towels which have been cut in half to make napkins. They could be a fancy party favor. Unless you spill something on them. In which case the fancy factor goes way down.
The reality is that when you set a table with beautiful heirloom silverware and salt and pepper shakers that have graced countless tables, you could be serving pb&j and it would look beautiful.
Especially if you cut the crusts off and sliced them into little triangles. See…it doesn't take much to up that fancy factor!
But, why would you have pb&j when you could have blueberry muffins as big as your head?
You see, I don't think you have to make a choice between simple and special.
I think that sometimes what makes something so special is, in fact,  just how simple it is.
So, do you care to join me for my simply sweet Spring Brunch Buffet?
You might even decide to wear those fancy flip-flops after all!
I'm so thrilled to be joining in this fun week of beautiful Easter Tablescapes hosted by the wonderful ladies of Uncommon Designs!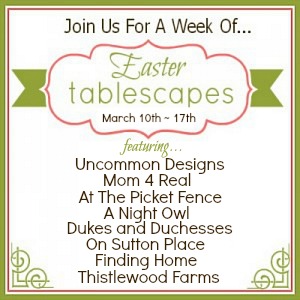 They kicked things off with their gorgeous Bunnies and Burlap table and were followed by Thistlewood Farm where we got some fabulous Spring Table Decorating Tips. Next we saw a Beautiful in Blue Easter Tablescape from On Sutton Place followed by a stunning Vintage Brass and Lavender Tablescape from Finding Home. A Natural Easter Tablescape was shared by A Night Owl and a darling Children's Easter Tablescape was created by Dukes and Duchesses.
What an honor to be included in this lineup!
I hope you will pay them all a visit and I look forward to meeting you back here at the Fence soon,