We are so thrilled to be announcing our newest Sponsors At the Picket Fence!
First, we have 2 Bloggers who not only share wonderful projects and inspiration, they also happen to be truly lovely individuals and we are honored to have them partnering with us.
Julie, a.k.a.

Redhead Can Decorate

, fills her blog with fantastic ideas and her creative approach to decorating will give you tons of inspiration for your own home!
Check out some of what you will find on her site:
Kitchen Makeover
Illuminated Photo Door
Dining Room Turned Office
Next, we are welcoming Sherry from The Charm of Home!
She has so many fabulous ideas for Fall right now on her blog! 
Including these:
Hogwarts Halloween Feast
Pumpkin Cake Delight
Book Page Oak Leaf Wreath
Sherry also hosts a fantastic party each week and she would love to have you join the fun!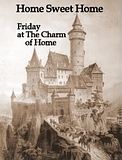 And we are thrilled to be welcoming the 
Canvas Photo Company.
Where you can take your photos and turn them into beautiful works of art by having them printed on canvas. 
These would make the perfect gift for the upcoming Holiday Season!
There's even a special sale going on right now!
And, last but certainly not least, we are so excited to be partnering with Swanky Outlet!
Where you can get incredible deals on products from names like Tommy Hilfiger, Calvin Klein, Kate Spade, Martha Stewart, Ralph Lauren and so many more!
Martha Stewart Ribbon Trace Coverlet


How do we offer such great products at such LOW prices?
We purchase our merchandise directly from the Department Stores (not through any middle men), so we know exactly what we are receiving is authentic and has not been handled by others. We also purchase directly from boutiques and some sample sales, but we never go through third party vendors. We purchase overstock, vendor and customer returns, and shelf pulls from the department stores on a regular basis. The merchandise will vary from new in package items to repackage items to some that are damaged or show signs of wear. The condition will be noted on each individual item description page. Please make sure to review item descriptions before purchasing. NOTE: All clearance items are all sales final so make sure to read those descriptions as well.
We hope you will take some time to pay these folks a visit (and maybe do some shopping!) and let them know that you heard about them through the girls At the Picket Fence!
Thanks so much for helping us show our new Sponsors some love,